Meat Bone Tea
You probably saw my
running pic
(pic courtesy of Jason Lee) in a previous post, looking all tired and dehydrated... Well, that was the Adventurun 2007, a 10km run I took part in last weekend in Taman Pertanian, Shah Alam for the benefit of the Malaysian AIDS council. Tagline:
Make a difference, run the distance
.
In actual fact, I can do 10k's, no problem. In fact I have run that distance in training loads of times (I've even finished the 22.3km Pg Bridge Run in 1 piece), but the reason I look so distressed was the fact that I was not used to running hills. And the first hill started 2 steps into the race... and the slopes kept coming and coming... I think in all, the average incline was >30% throughout the run. And logically, with hard hills, come hard descents... god, the knees and quads took a hell of a beating that day!
Less than 6 mins/km
However, to my utmost surprise, I did a personal best (PB) of 59:17. But till today, I am unconvinced the run was actually a whole 10km, it just seemed a bit too short for me, and my time seemed a bit too fast. I try tellin meself it was the adrenaline and the inner strength and what-nots, but who am I kiddin right? Neways, it was for a good cause and I'm all for runs with a good cause.
Next up:
Great Eastern Pacesetters 30km, 20th January 2008
.
......................................
Its the last day of a long weekend. Decided not to go back home to Teluk Intan for a fear of traffic problems on the highway and also the old trunk roads. Got caught in a mind-boggling 5 hour crawl last time during Merdeka weekend, so we're not going thru that again!!!
Long, lazy weekend equates to J doing some cooking. Yum. What did she decide upon this time? ........ (Edible or gag-inducing?) ..... Bah Kut Teh ala Teluk Intan. Recipe handed-down for generations. This warm delicious and nutritious brew had been warming the J family tree for as long as we can remember... And it was edible, thumbs up too!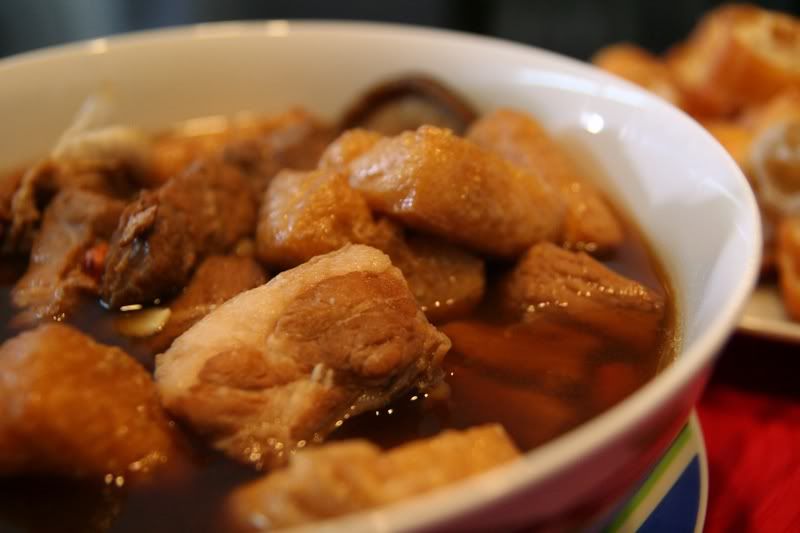 Well marinated pork belly and pork ribs in tasty soup... yummers. With tofupok too..
Damn lot to go around.... another gargantuan bowl for dinner laters..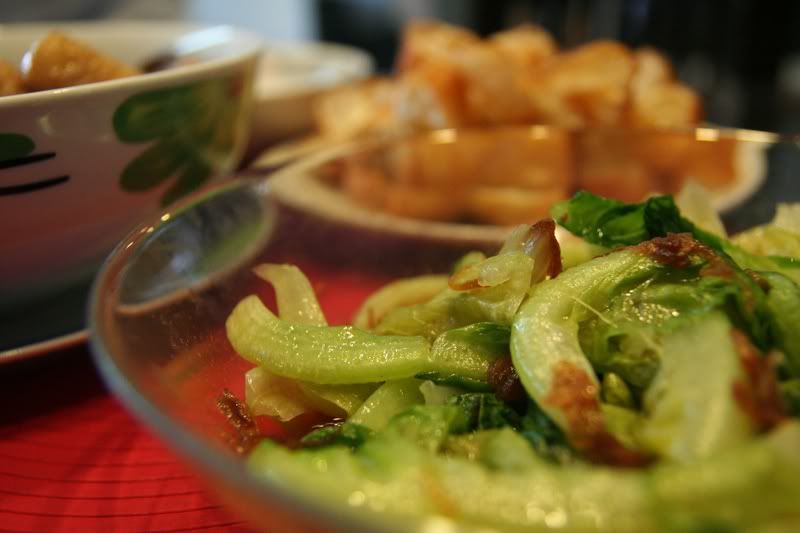 Romaine lettuce for a little bit of vege nutrition... always eat your greens, kids.
Next time you wanna have Bah Kut Teh, skip Klang or wherever it is you normally go to. Just call 1-800-J-Kut-Teh for take aways!!! And if you have a J card, you get 10% discount some more... Muahaha. :-)