All's Well Ends Well....
KLIM 2008 Report.
Pre-Race:
Sat nite...
9:40pm - Left calf still sore from the week before. Put some medicated plaster and hoped it would go away.
10:10pm - Tried to get some sleep. Set alarm to wake up at 3:00am.
10:59pm - Still tossing and turning.
11:47pm - Still couldn't get any shut eye... Nerves? Or just adrenaline?
Sun morn...
3:00am - Woke up as the alarm went off.. Bro already up and watching the MU game..
3:20am - Had a bun and some choc milk.. Took a quick warm shower to relax the muscles..
3:40am - Tried to do my 'business' but failed miserably.
3:52am - Came out of toilet with no achievement. Gettin worried about a possible stomach discomfort in front of Mid Valley later.
4:05am - Called Plum. Woke up already.
4:15am - Left home to pick up Plum and off to KLIM. Bro and Plum taking part in the 10km.
5:02am - Arrived and parked near Pasar Seni. Walked over to Dataran Merdeka.
5:30am - Reported for the 21.1km start and walked into the fenced area behind the starting line. Did some last minute stretches for my calf and hoped for the best.
6:00am - BANG! There goes the gun...
21.1km Race:
Started off slow and steady, reminding myself not to follow other runners' pace and just to follow my own rhythm. It was difficult seeing runner after runner passing me by, but I told myself that I'll just reel them in one-by-one later when they pancit... Haha.. yea rite..
Throughout the race I was breathing comfortably, my calf didn't give me much problem after I got into my stride after 3km or so... I was pretty much enjoying myself and watching other runners go about the race... some shuffling along, some bouncing up and down more than forward, and others just plain walking...
Along the way, there were certain stretches that were really mental... along the Sg Besi highway at the airport strip.... The Adidas shower near the end.. (mental because it looked so inviting, but I didn't wanna get my shoes wet..)
Some things of note... running a 21km race is totally different from running a 21km training run. Why? Well, for starters, in a race, you start sweating buckets even from waiting in the crowd for the start of the race... there goes your hydration plans. Lucky me, I had a bottle of water with me the whole way...
Another thing is dodging runners who abruptly stop running and start walking, or those that walk in a group and effectively making you run an extra few metres round them... Prolly in training, the only dodging you need to do is evading bird poo...
The 1 thing that the organizers could improve on was to put distance markers along the route for all marathon, half-marathon and 10km categories. Without the distance markers, we were practically left to guess how far we had run so far, and how far left we had to go...
Running the last 2 minutes upon seeing the finish line was the most comforting feeling in the world...
2hrs 24 mins and 29 secs
of pounding tarmac come to an end. And what do we get from putting our bodies on the line?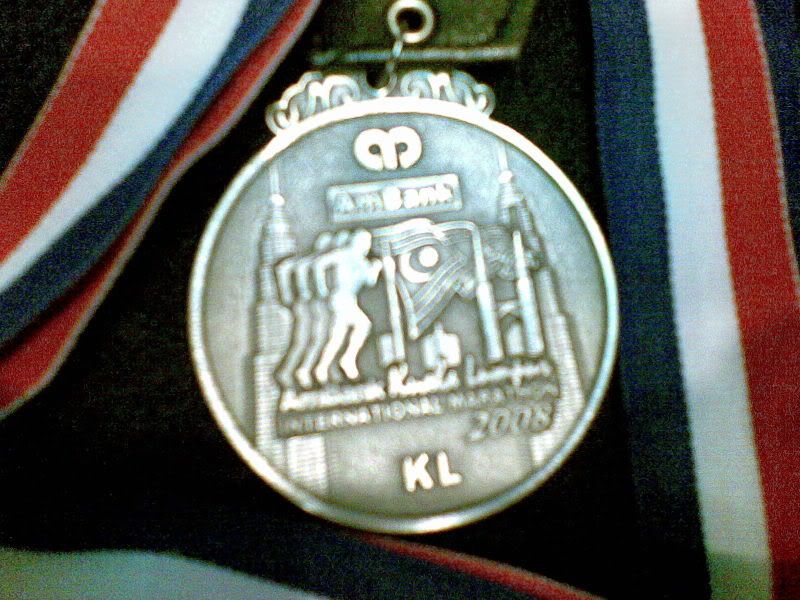 Front of the finisher's medal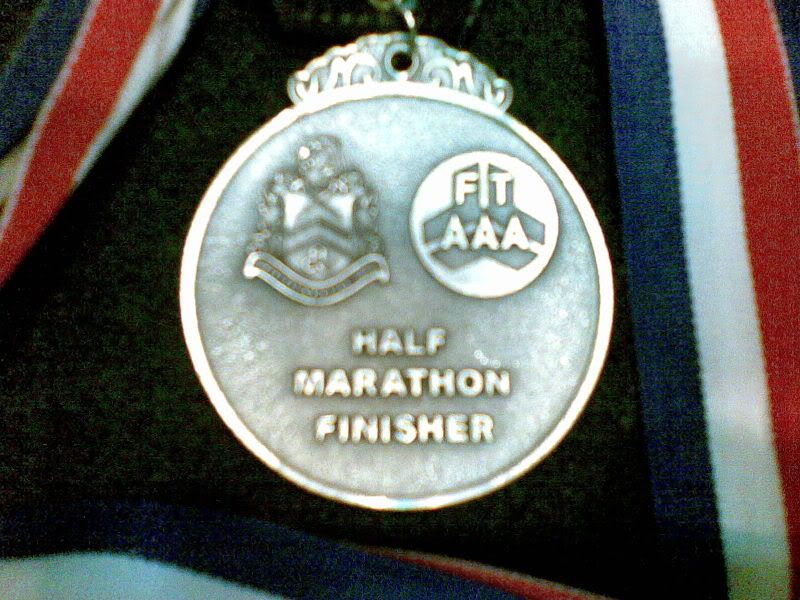 Back of the finisher's medal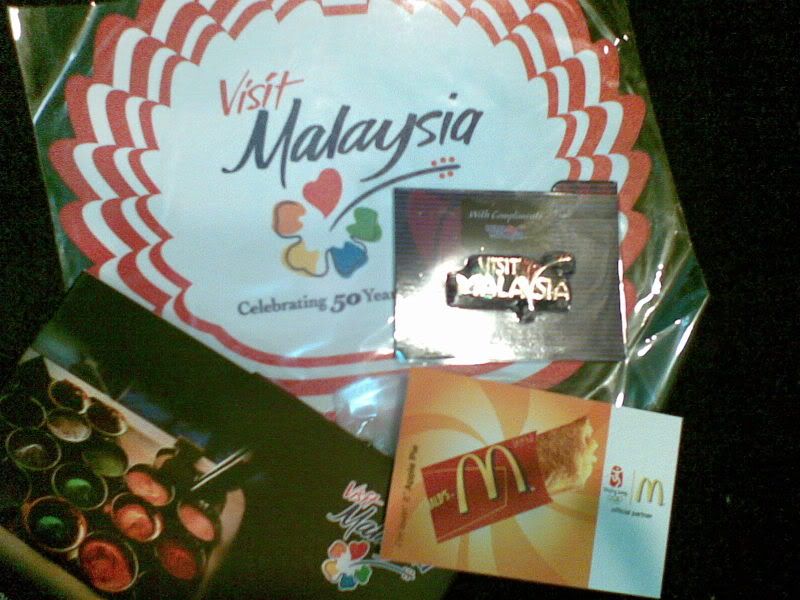 Some goodies...
For the full marathon and half marathon categories, the certificates complete with timing and position will be posted to the runners within 3 weeks. Or so the organizers say.
Post Race:
Joined up with my bro and Plum at the finish / refreshments area... Both of them did their first 10km official race and both did extremely well... Bro finished in 1:06 while Plum did 1:15, both qualifying for the certificate of completion.
After returning my chip, grabbing a couple of cups of 100 plus, we went off back to get the car and headed for some well-deserved breakfast...
Highlights of the race?
1. I managed to overtake 2 Kenyans/Africans. 1 was a guy running the 21km, but he was probably treating it as a morning walk... 2nd was a lady running the 21km... However, in my delirious state near the end when my focus was only on my burning muscles, I didn't know whether they blitzed me back!!
2. No urge to do any 'business' that I worried about earlier... woopee!!
3. The opportunity to run on Federal Highway. I think this is the only time we are ever allowed to do so.