Huff n Puff n Blow Your Lungs Out
Sniffle cough cough... Cough ackk..ackk.. sniffle...
Hai.. still recovering from a bout of the flu and a particularly nasty sinus problem.. Note to self and to readers: Never never get on a plane when you have a sinus problem, during the descent when the air pressure changes abruptly, your sinus cavity (which is blocked) expands and you'll feel like your head is gonna explode.. serious. It is excruciating.... with a capital E.X.C.R.U... I'm just too lazy to spell it. My flight to Miri and back on a business trip yesterday was pure torturous. Urrrggghhhh... Unga unga uuurrggghhhh....
Anyways, with the flu whacking me upside down over the weekend, and the rushed trip to Miri, I was hankering for a run after a 3 day hiatus... tho with a half-recovered nose and throat congestion, I was still feeling pretty under the weather...
I think its becoming some sort of obsession, this running thingy.. I feel funny if I go more than a couple of days without lacing up my runners.. so even with some viral war going on inside of me, I told myself to go out and do an easy 8km (at least) after work today.
...... I now know that a half-functioning set of lungs and crazy amounts of carbon monoxide (that's the cons of running on the road in KL) don't go well together... 3.5km into the run I was already starting to huff and puff. 1 km later, my heart started to 'cramp' up and I could feel my lungs tighten... At 5km I had to stop and walk. There goes the 8km plan... What a letdown.
On a brighter note tho, I received my 12-Hour walk certificate in the mail today...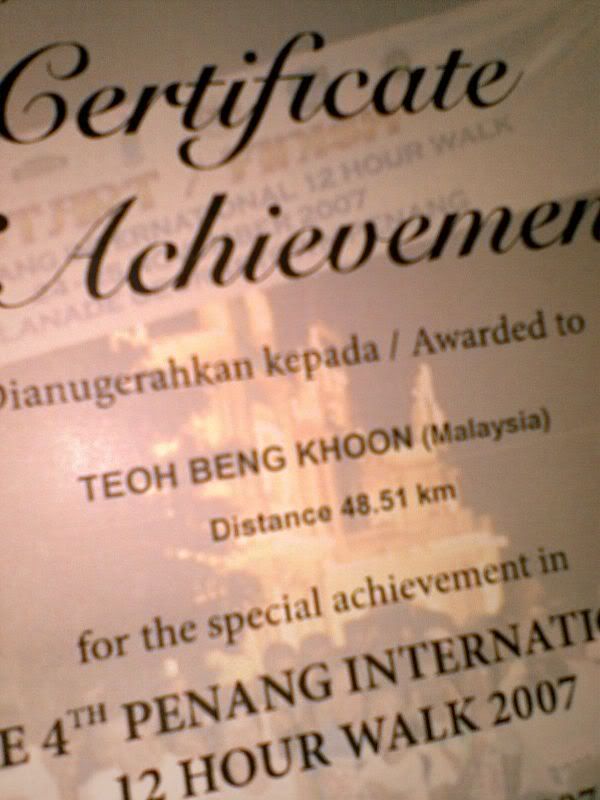 This is motivation to do more..
I also sent in my registration form for the Menara KL International Towerthon 2008, to be held on 3rd Feb. That will be my first race for 2008... and hoping for the start of numerous more..