KL Tower International Forest Towerthon Challenge 2008
Aka
The Ultimate Stress Test
...
Phew. Double phew.
Woke up this morning at around 6am, and got ready to go out together with J. Needed J to come along cos she's the one who knows KL like the back of her hand... Me? I've never been to Menara KL, and I'd prolly drive round and round and never get there.. haha.
Left KK at 6.45am and it had started to drizzle slightly. Crap. Hope it doesn't get heavy, I kept praying inside. Arrived at Menara KL at about 7.15am and proceeded to get a parking spot and I went inside to the Start area.
Gloomy morning
1st wave of runners was to flag-off at 8am, and my wave was scheduled for 8.15am. Around 15 mins before the start, it started to drizzle, and the drizzle began to get heavier and heavier.
Before we even got to raise a sweat, we were practically drenched.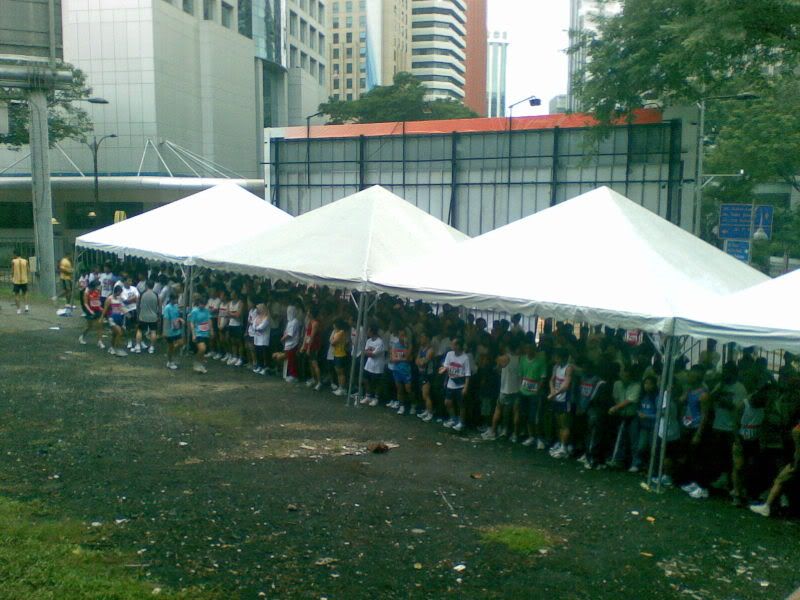 Runners waiting under the tents from the rain..
When the gun went off, I started to run at my own pace, knowing full well that it was going to be an uphill run, and not wanting to burn myself out before reaching the tower. The +/- 1km route to the tower took me 6:19, and we had to run up a flight of escalators before rounding to the back to enter the stairwell.
Now, this was an emergency exit stairwell, and the width was only the size of 2 guys shoulder to shoulder. There was practically NO ventilation, and the structure was concrete, concrete, cement, concrete, cement, cement and more concrete. The railings are metal tho.
Unless, you're the 1st (or 2nd) person up the stairs, all the view you're gonna have is of someone else's ass. A really sweaty piece of ass. And since we were running in gender based categories, all you're gonna get are male asses. Nothing to look fwd to man...
I managed to skip, hop and jump 2 steps at a time past a couple of runners who were slowing down (presumably for putting their NOS on before the tower) and I was feeling pretty good. Most of the time though, I was down to a walking pace as there was just no room to overtake.
However, faster than you can say tired, ... I got tired. From being in an aerobic state, it was like an immediate jump into an anaerobic state... I started to huff and puff and I was breathing real hard. I could feel my heart beating like there's no tomorrow and I was starting to get out of breath. My heart rate went up exponentially.... and I was practically lugging myself up the stairs. The sight of runners sitting down and doubling over at the side of the staircase didn't help motivate me much either.
Before the race, I seriously thought that my knees and quads would give out way earlier than my heart, but it was actually the other way around. My legs didn't feel tired, my knees were OK, but my panting grew louder and heavier.
At the 16th floor, I had to come to a complete stop to collect my breath and I took about half a minute's rest before I continued the journey up. The next 2 floors were OK, but then the tiredness crept in again. It felt worse than running for 20-30kms, it was the kind of feeling you get after you sprint all out for 100m...
4 floors to go, I had to take another breather. I was starting to feel kinda dizzy and I didn't want to pass out there, so I stepped to the side and took about a minute to get my breathing back in order.
With renewed vigour, I pushed up the remaining floors and finished the 2058 step tower in a total time of 28:35 (taken with my own stopwatch; official timing will be mailed with my certificate).
I was quite pleased with the timing as I didn't set myself any expectations. I guess I will train on stairs more in the future and better my own timing next year.
The view from the top of the tower was nothing short of dismal, mainly because the windows were kinda fogged with all the raining going on. After taking a couple of shots, I went down to collect my finisher's medal and goodie bag.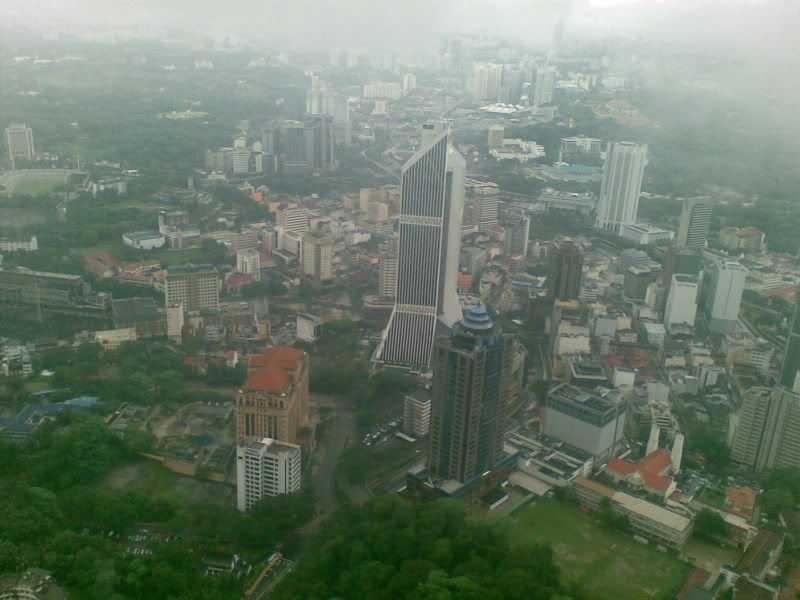 I think that's the Maybank Tower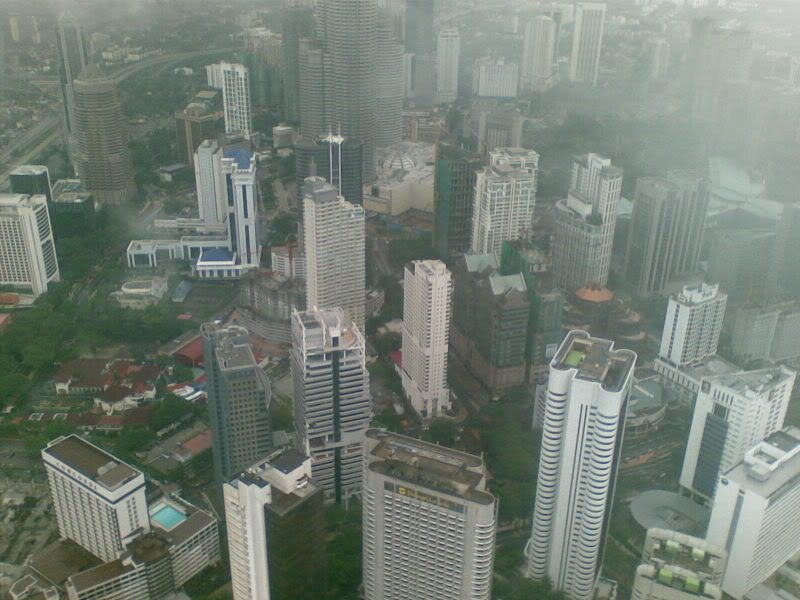 Foggy foggy...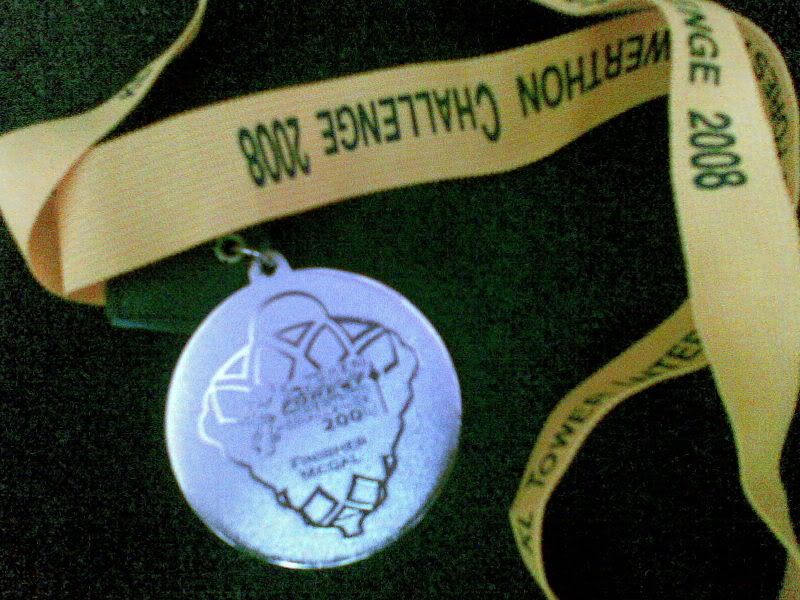 My finisher's medal..... nice..
Stuff from the goodie bag... beats me why they gave pantyliners (!!?!?)
As I was walking back out to where J was waiting, another wave of runners (men's/women's senior category I think) just reached the tower area. Clapped and shouted words of encouragement to them and snapped a couple of photos too...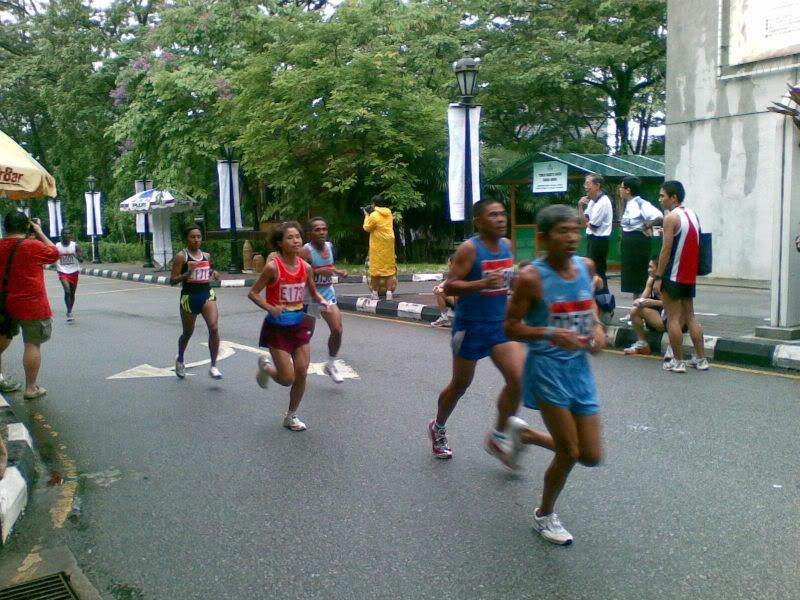 Motivational...
After meeting up with J, I took some customary pics with the event banner and left the place fully satisfied with the event.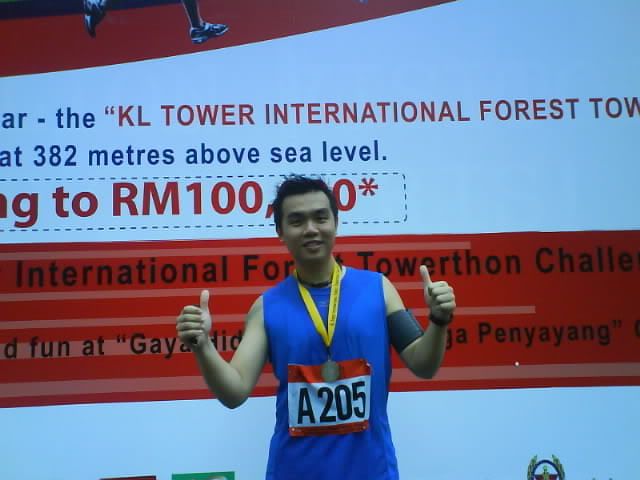 I did it!
And NO, for the last time.... I did NOT win RM100,000.00!!!

Breakfast was a sumptuous affair, with the famous pork noodles at Jalan Imbi. A great end to a way cool vertical running event.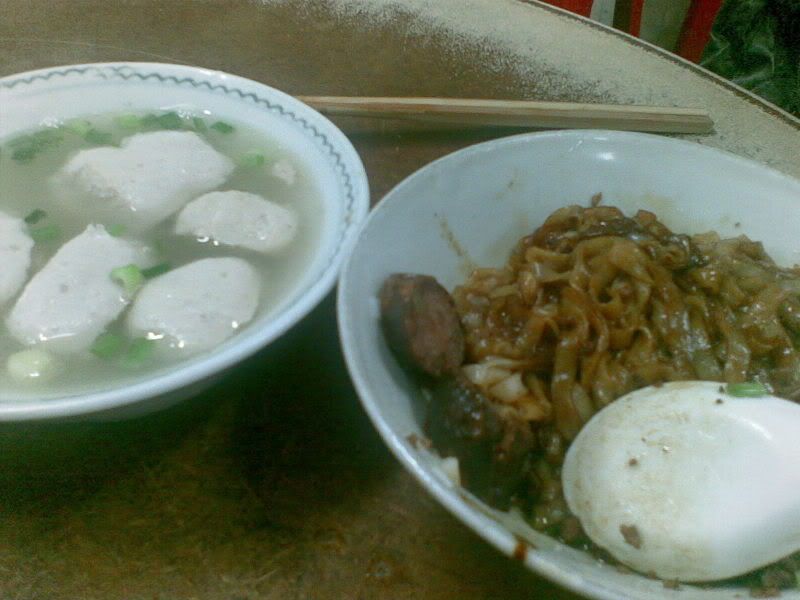 It really is good.... Yummy..

Note: Pics taken with camera phone. Forgive the resolution.
Update: Official results from Menara KL website - I finished in 332nd position / 514 participants in the Men's Open Cat with an official timing of 28:34.