BHP Orange Run
Dreeet.... dreeet.... My alarm rang at 5.20am and I sat up groggily before looking out the window in horror at the rain... Lightning and heavy raindrops pelted the night sky as I contemplated whether to go ahead for the run or not...
Lazing around in bed for an additional 10 mins didn't help as sleeping in seemed like the better option... But... I finally got out of bed and washed up and had breakfast.. Sms-ed Plum to ask him whether it was raining at his end of town, and he replied.. "Yeah, not heavy. Cancel?" That's positivity for you mate. After a phone call, we decided to go ahead and I picked him up on the way to the Curve.
It had stopped raining when we arrived, and approx 10 mins after we got there, the race started.
Runners at the start of the race waiting for the gun..
I decided to pace Plum for the whole 9km as he was 'kind' enough to get out of bed with 3 hours sleep to do this run. I'm kinda trying to get him into running and to leave him to sleepwalk his way thru this would be unfair... So we went off nice and slow (real slow) and chatted the whole way (OK, more like me talking and Plum asking me to shut up)..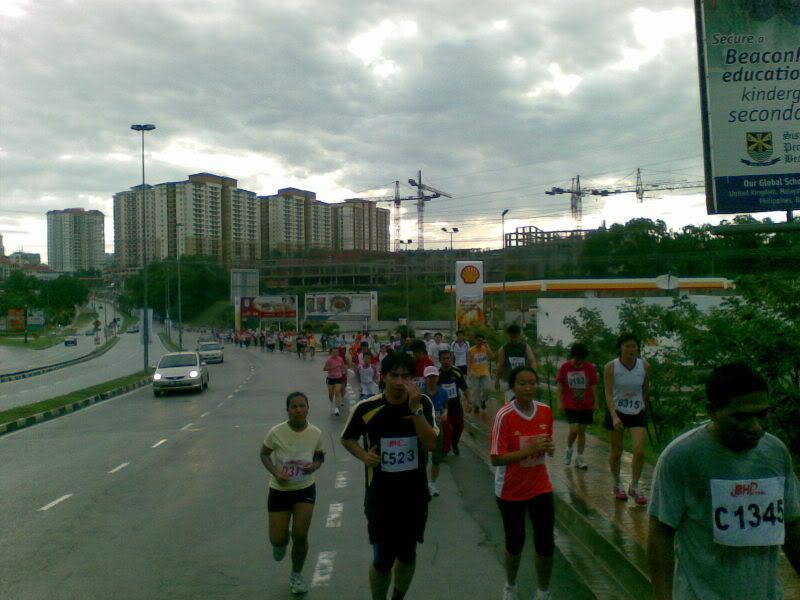 One of the uphill stretches along the route..

I'd say that overall, the traffic management was pretty poor, with no safety cones along the route and the authorities allowing cars and bikes to zoom by an arm's length away from the runners... I saw a couple of school kids running in and out of the crowd of runners with cars speeding by alongside... seriously not safe.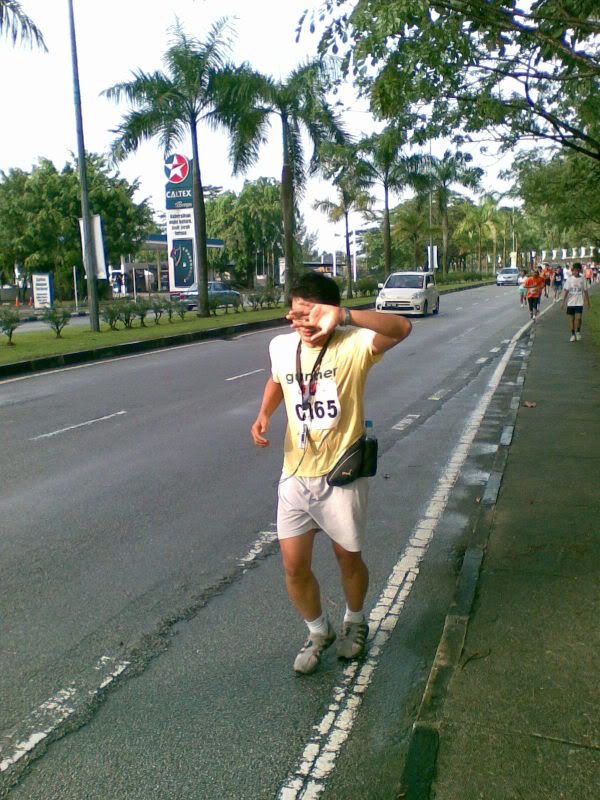 Plum doin his thing... and calling himself a lactic-acid warehouse..

I kept talking and talking and making sure that Plum didn't fall asleep halfway thru the run (or curi ayam) and
1hr 20mins
later, we hit the finishing tape... ok more like running past the finish line...
The whole finish area was awashed with sweaty wet runners and we were supposed to line up to collect our goodie bag after the run. This was where lack of organization crept in again... hordes of runners cramping around with no particular visible queue to get their goodie bags... They should have just passed them out as the runners came in at the finish line, or at least made the goodie bag (of a cert and a bottle of water) area bigger instead of just 2 tables for a couple of thousand runners..
Like a pack of sardines waiting to collect the goodie bag..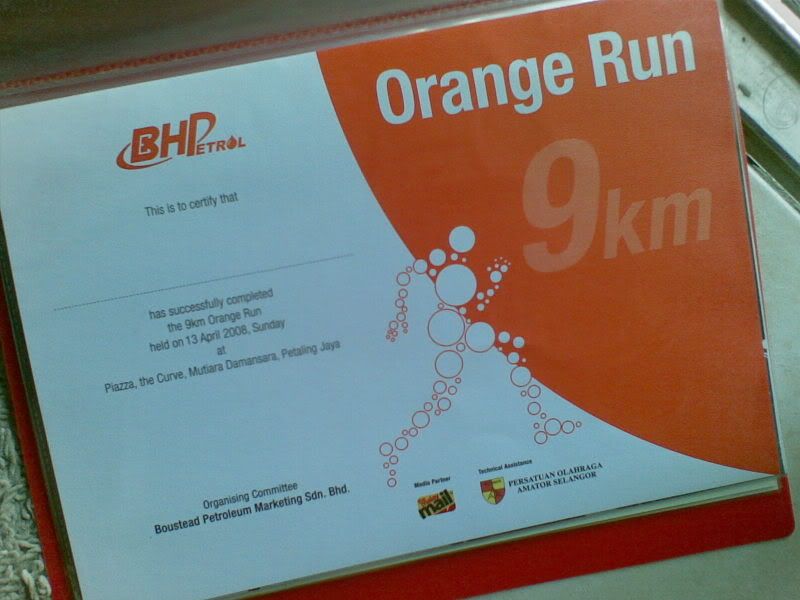 The finisher's cert...
Grabbed some drinks after the run and went off with Plum for some mamak breakfast for refuelling...
Feeling syiok after the

BHP Orange Run

at the Curve..