NB Klang Pacers 1/2 Marathon
This is it, my last race for April, and my third consecutive weekend of racing. Last week was a pretty good race in the Shoe String Run, with my fastest timing over 10km ever... How would I do this time around with double the distance?
I collected my running vest and number on Friday during lunch hour.. and it was a pretty good quality vest by New Balance, real technical wear, and not the cotton crap most races dish out...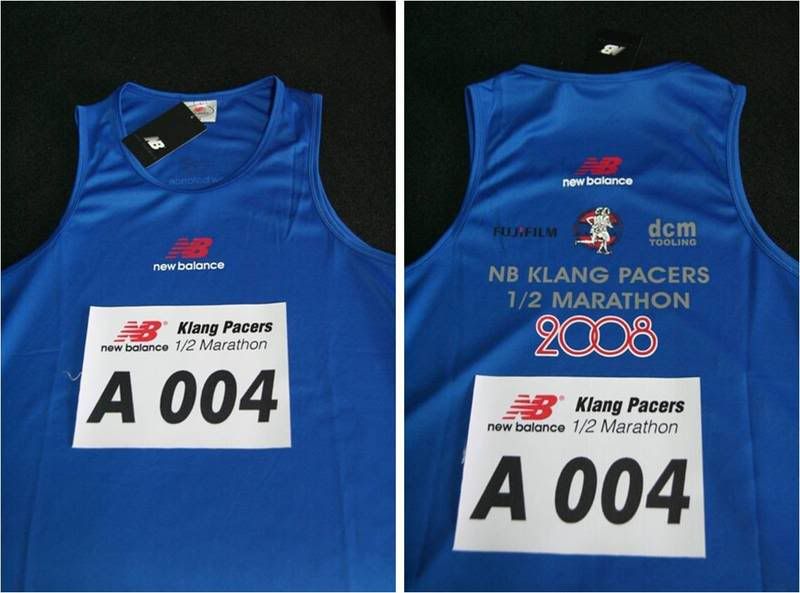 Something to wear during my training runs...
As usual, my number was not really desirable with the 'sei sei die die' intonations... sheesh..
Discount voucher... I know what I'm gonna get..
They also gave us a 30% discount coupon for New Balance apparel / shoes and it couldn't come at a better time... Check out my wishlist on my side bar... The NB902LW is going to be my next pair of runners... after I've done 700km on my current Brooks..
Fast fwd to this morning... skipping the normal routine pre-race storyline, I got to the starting point with about 30 mins to spare. Did my warm-up around the running track and proceeded to the starting line up... Gun went off at 6:15am and I started my stopwatch... It was still dark and some portions of the road were not lit... Nothing spectacular, except for the fact that I nearly stepped on a dead cat with innards spilled all over the road.... yuckies..
At about the 1km mark, I noticed a familiar face amongst running circles and I ran up to say hi to
Haza
... exchange pleasantries and I was off on my way... At the 5km mark and 1st water station, I looked at my watch and it read 0:37:02. Crap, way off my target time.. I was going too slow...
Decided to work it up a notch and looked in the distance for a target to reel in... Picked a shapely girl (he he) about a few hundred meters away and set off at a pace a little higher than normal... After a while I passed her and as I caught sight of the 10km marker and 2nd water station, my watch read 1:08:00.. Cool! I'm way back in the game now!! Going below my KLIM timing of 2:24:xx is a very real possibility now...
I fueled myself with a packet of raisins (read somewhere that they work just as well as energy gels) and they actually do! Felt more energetic and with my bottle of cytomax in hand, I actually was able to pick up the pace even more...Raisins actually digest fast and 1 box of Ligo's actually give you 33g of carbs, more than a pack of gels.. Those runners who were running way in front of me at the start.. started to look tired and slow as I picked them off one-by-one...
The sun was beginning to shine bright by now and the weather had started to become slightly hotter... I was glad I had my sunglasses with me as there was a pretty long stretch that we were running into the sun...
15km point and 3rd water station, I clicked the lap button on my watch and looked at it in disbelief at the timing of 1:30:14... I just blitzed my last 5km in 22 mins!! Did I go too fast? Would I burn out before the finish line? Questions kept popping into my head...
4th water station was at probably the 17.5km (no marker as far as I remember) and I kept going... with 2 kms to go, my watch showed 1:54:xx and I knew that I had shaven off a big chunk of timing from my KLIM run... It was then that I started to feel my left shin and both calves in the initial stages of cramping... not wanting to cramp before the finish line (and after), I decided to slow my pace a little to not accelerate the lactic-acid build up in my muscles... The last km seemed like forever as my tired legs trudged on...
Nearing the finish line, as I ran towards the arch, the announcer called out... "Number A0004... Blah... Blah Blah.." It was indeed a refreshing change and a nice touch to the finish for them to call out your name as you cross the finish line.. As the photographer snapped my pic as I crossed the line, I clicked my watch to end the run at
2:10:49
... my fastest half marathon timing in more than 10 years!!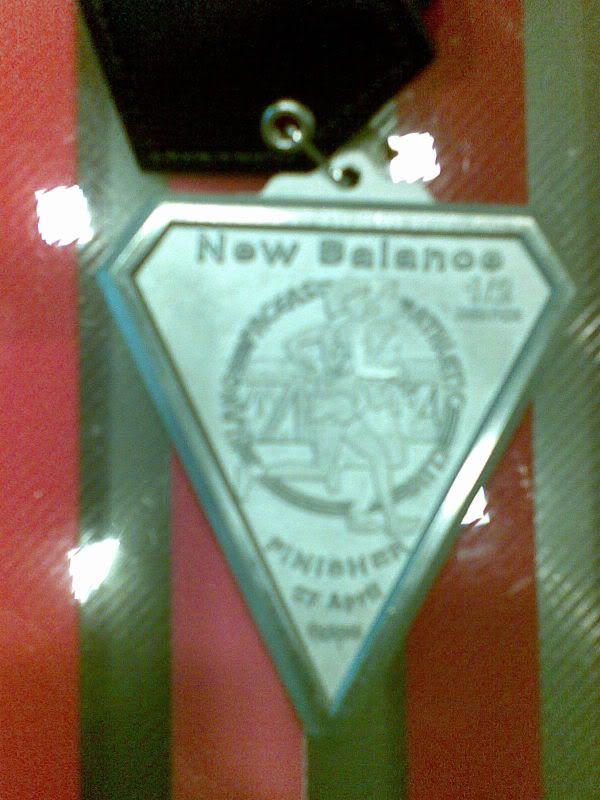 The 1/2 marathon finisher's medal
The finisher's medal was also pretty nice... shaped like Superman's crest, it actually did make me feel like a Superman!!