Shoe String Run 08 - Update
The morning started off like any typical race day morning... Woke up, washed up, some milk and a bun before going to the loo for some necessary discharge. Whoa! Diarrhoea leh!! (That 'witch doctor' was right after all!!!) Some more stomach bloated and distended (banyak angin). Worried that it would affect me later, I downed 2 lomotils and 2 actals to counter the problems...
Plum picked me and my bro up at about 6.20am and we proceeded to the primary school where the race was to start... Saw a motley bunch of runners there... no Kenyans tho.. haha. There were your typical local 'kenyans' looking to sweep the top places, the weekend runners with a bit of quivering belly, the family of 3 little kids (this is after all a community / charity run) and my ol pal Plum who never seems to be able to get out of bed on a weekend.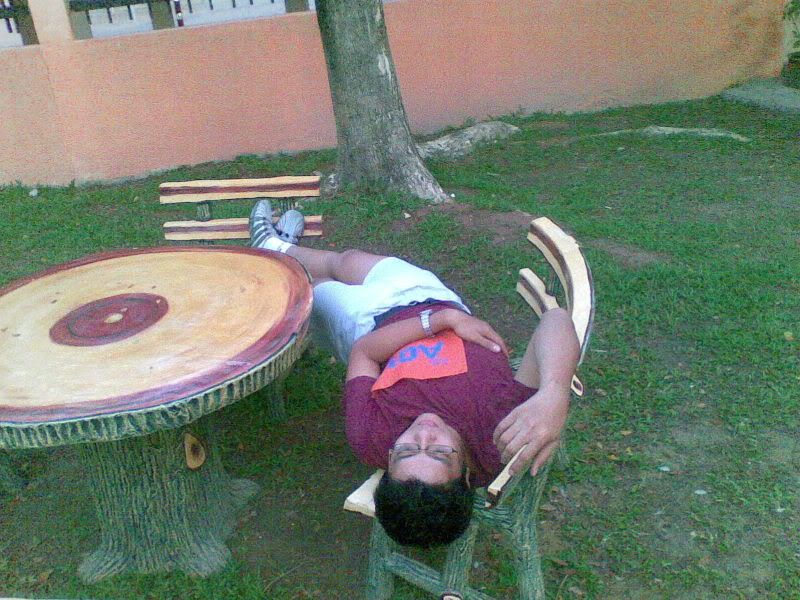 Plum doin his warmup BEFORE the run...
It was a pretty straightforward thingy... register at the counter, lounge around and wait for the run to start... Fitness First, as one of the sponsors was there to guide the runners (who were interested) thru a 10 minute warm-up routine, which involved a lot of bounding up and down and touching toes.
Warmup session with music by Fitness First
The run started a wee bit late, should have flagged off at 7am, but I guess the organizers delayed it a little as some runners were seen coming in late to register. Didn't really check the flag-off time, but presumed it to be about 7.15am.
Saw Felix (another runner from Kota Kemuning) at the warm-up area and had a bit of a chat with him...
At the start line, I met up with the running uncle (the one who had the Ironman chat with me in a previous post) and he asked me to join the Pacesetters. They were lookin to form a mini-group for Kota Kemuning... As we were chatting, they flagged us off and we continued talking for a short while on the way out of the school.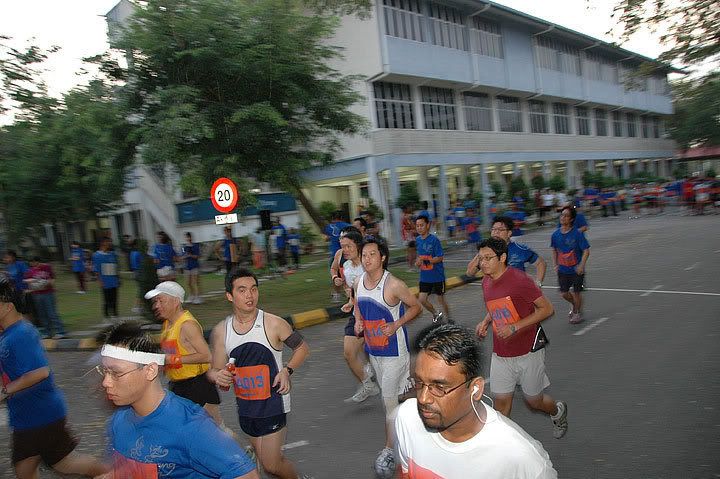 Started at the back... but didn't finish at the back... =P
I totally forgot about my plans to treat this like my easy weekend run, and the pace kept going up as I found myself chasing the leading batch. The route was pretty flat about 80% of the way, with long straight stretches that pick you out mentally and some sloping gradients that give you a kick up your arse if you've been lazy with your hill runs.
At the 5km mark, I checked my time and was surprised to see 26:45. Man, I've been running sub-6mins pace! I can actually do this under an hour! Not wanting to let the pace slip, and totally throwing the idea of an easy run into the drain, I locked on to a runner doin a similar pace in front and made sure I didn't let him get away...
At around the 7.5km mark, the runner (another guy) in front of me was like 300m away, and the runner behind me was also some distance away... (the guy above with the similar pace faded off earlier).. Running alone with nobody next to me was tiring mentally as there was just nobody to pace with.... I think this is where I let my pace drop unconsciously... With about 500m to go, I picked up my pace again and finished the 10km run in
57:50
. A sub-60 mins effort, with actually some capacity left in my tank...
Strong lookin finish..
Felix came in some time later, my bro a while after that and Plum came in with a doggie running next to him. Trust him to flirt around with a bitch while running...
We collected our certificate of participation, a goodie bag, had some drinks and off we went for breakfast. While walking off, we managed to get an obliging fella to help us take a group shot...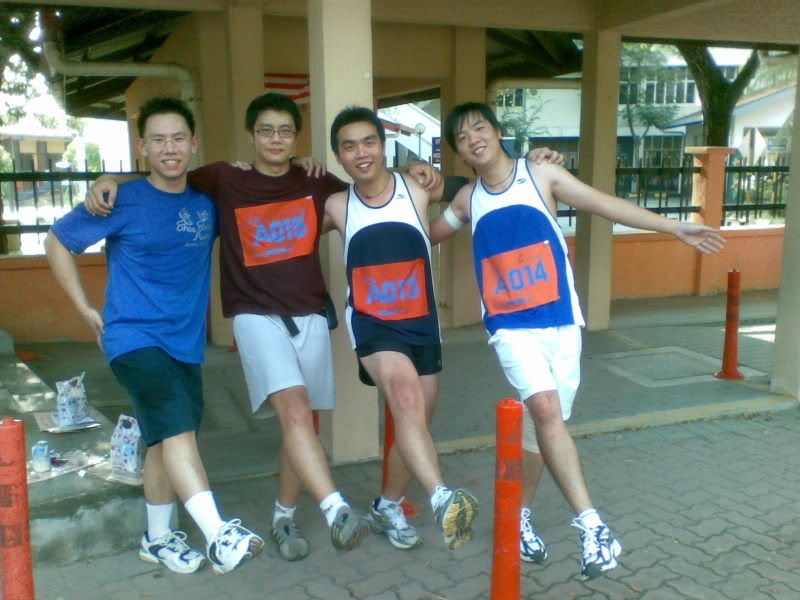 Best foot forward... (l-r) Felix, Plum, Bunny and Bro..
The goodie bag and certificate were ho-hum... but we were not into this for the stuff, we run because its for charity and because we love to...
Contents of goodie bag...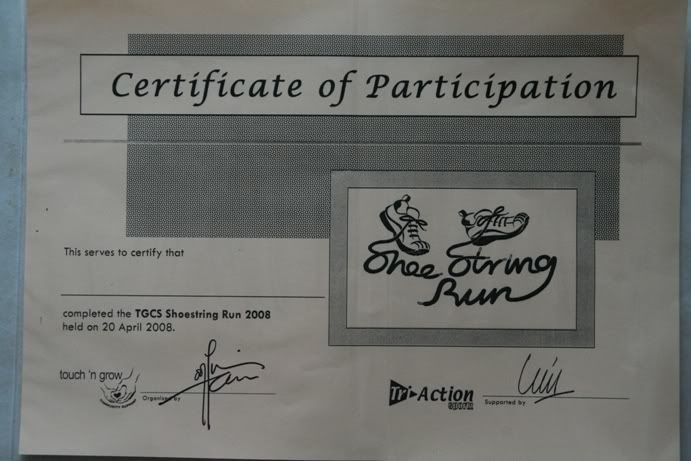 Certificate of participation..