A Loooong Weekend...
Much happened over the 3 day weekend... I had a race (the New Balance Pacesetters 15km run), I had a puncture, my parents came down to visit, I received a 'ham choi' package (in my previous post) and I got meself a pair of shades to go with my MET helmet... in a summary...
For the lengthy version.. read on... but maybe not in chronological order..
Saturday morning I received my Dolce Vita Phantom shades from
Procyon
. Bought them to pair up with my white/blue MET helmet... matching kan? hehe... If you're lookin for a pair of shades, check out Procyon's page... (Dude.. free advertising, please send over a complimentary pair of shades... haha)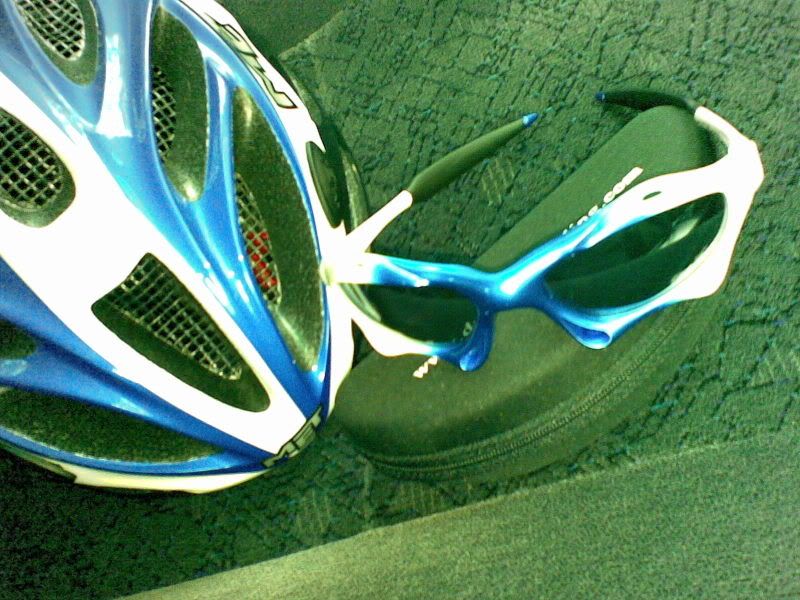 MET and PHANTOM... What a perfect couple..
Went out in the afternoon for a spot of shopping with J and went to collect my number/vest for the NB 15km run the following morning at Pdg Merbok.. Mum and Dad stayed home as mum wasn't feelin too well..
Woke up Sunday morning at about 4:30am to get ready for the run... decided to wear my running tights instead of running shorts to avoid chafing and to test it out for next weekend's Port Dickson International Half Marathon...
Arrived at Padang Merbok at about 6:30am and downed a small pack of raisins for instant energy... The 7am start was pretty abrupt, with runners mingling at the start line and the horn blared out of nowhere...
First 2-3km was a jam-packed affair with the narrow roads and sea of runners... I wasn't able to get into a running rhythm and constantly had to dodge slower runners and walkers... the slight uphill at the start didn't really help too...
After that it was smooth flowing all the way and when I hit the 1st water station (I assumed it to be at 5km), my watch read 0:34:40... And I knew that the initial slow pace was a factor in my timing and I had to pick up the pace... I scouted for a person to pace with and saw
Arif
whom I recognised from his blog that I read... Said hi to him and paced him for a while... after that I found another girl in halter straps doin a solid pace consistently (which I gathered to be about 6mins/km)... followed her tight all the way till the 2nd water station (presumably 10km) where my time was 1:01:21...
There were some hills along the way, and I had never run this route before so I didn't know where to expect the hills and where to expect the flats... At my 10km timing, I was still feeling strong and felt that I could do a sub 1:30 for this 15km run...
Kept the tempo going and went past the girl... Met up with Steven from Kota Kemuning and had a chat with him before we each went on our own pace... Finished my run in
1:28:45
and saw
Frank
and
Jamie
at the finishing line waiting for runners to come in... First time meeting both of them and some other runners as well... (My pleasure guys..)
For my efforts... I got a finisher's medal shaped like a New Balance shoe... wonder which model this is???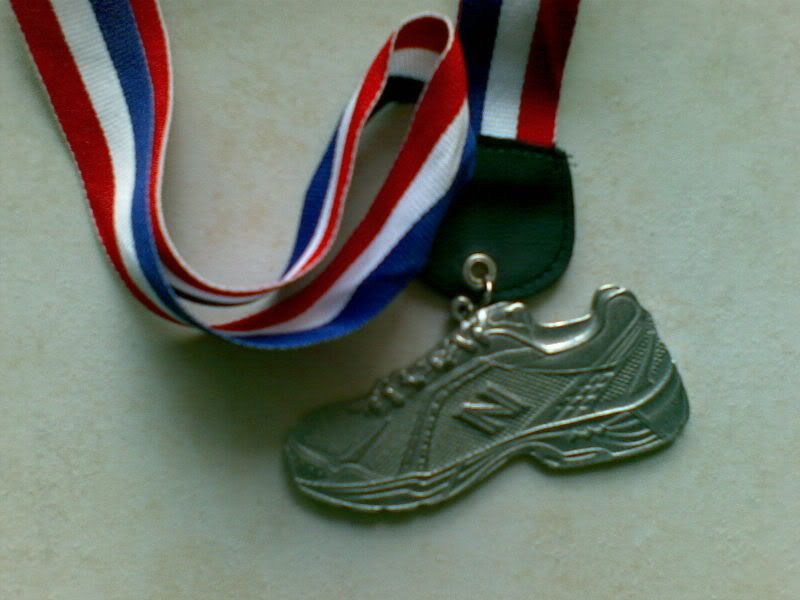 Great design medal... Something different..
Yesterday, I did a solo recovery bike ride.. Wanted to do something like 30km just to get the tiredness and muscle soreness out of the system... Went riding around Bukit Rimau, Kg Jawa, Kesas Highway and had done about 29km (slightly over an hour) when my rear wheel went bob bob bob bob... Looked down and saw a flat... Haizzz... Luckily I was about 2km from home then... POndering whether to change the tube there and then or walk the bike home and change it later... With the heat and sun bearing on me, I decided that the 10 mins it takes for me to change the tube had better be spent walking home with the bike and changing in the comfort of my home...
So, a 15 min walk ensued... And I haven't changed my tube yet as of now... Yes, I am a procrastinator.