Another Note...
Her Sanctuary,
PO Box 221108,
Mummy Tummy.
7th August 2008
Dear Mummy & Daddy's Lil' Girl,
Looks like its been 2 months since daddy wrote a letter to you. I guess this note is way overdue. But not to worry, mummy and daddy talk to you every night don't we? You hear our voices and mummy's singing (maybe a wee bit off-key sometimes) before you go to sleep ya...
Mummy and daddy knew you were to be our lil girl last month, and immediately we went out and bought some lovely dresses for you... even though it'd be a few more months before we see you, and another few more months after that before you'd fit into them... Haha... mummy and daddy just couldn't control ourselves... They just look so cute, and you would be such a doll wearing them... Muaks.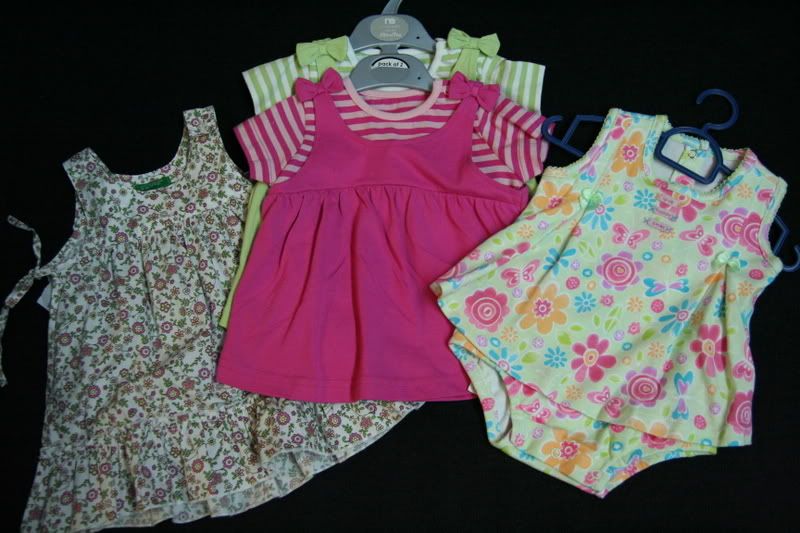 A fashion collection...
Now, mummy has to set aside some space in her closet to share with you. In no time, you will have as many dresses as mummy... boy, daddy's gonna need to go out and buy another closet.
You have grown so much since the day we first saw you at the doctor's. And you have grown a lot heavier too... Mummy says she looks like a beach ball now... Hehe.. daddy thinks she looks like a watermelon... haha.. but that's our lil secret ok? Don't let mummy know...
Mummy says she feels you kicking and punching her harder now, its like you're telling her you're there..." Don't forget to feed me, mummy!!... Don't do your work until you forget about me!!... I'm here! I'm here!... " ... Well, daddy says... give mummy all the kicking you can... she loves it!! She loves to know you're there... and daddy absolutely adores it when daddy puts his face on mummy's tum-tum and gets a kick or punch on the nose...
Dear, you concentrate on growing up strong and healthy ya... Mummy and daddy are now busy buying stuff and getting all things ready for you. Until daddy writes another letter again, know that deep in mummy and daddy's heart, you're the best thing that's ever happened to both of us.
Lotsa love and kisses,
Mummy and daddy.