3-Day Weekend
It was a pretty event filled weekend.
Weekend started early on a Friday as I took the day off to take J for her monthly check-up. It was THE check-up session, you know... the one where we got to know whether it was going to be Bob or Bobetta... hehe... anyway, to keep the readers of this blog (however few you may be) guessing, I'm not revealing whether J and I will be having a son or a daughter (yet)... haha... keep guessing..
And no. Its definitely not twins OK!
After the check-up session, we immediately dropped by the Curve for a spot of baby clothes shopping (now know already ma, buy blue or pink) and lunch.
..........
I did an easy run on Saturday morning, still feeling the after-effects of cramping and a knotted calf muscle from two days before... felt comfotable after the run and decided to run the Siemens Run on Sunday. Contacted Syd to make arrangements to collect my bib and vest...
J went out with our neighbour SL on a kinda girls-only outing so I took the time to take my new bike parts (read: latest secret mission) to the bike shop for the final installation. Will unveil the bike in another post... hehe.. suffice to say, it looks 'ganas'...=D
Practically spent the whole day at the bike shop, and had to go out to source for some parts and accesories as my regular bike shop didn't have the necessary components... Cancelled the appointment to collect the vest/bib from Syd and only managed to finish and get home at close to 7pm.
Sneak preview.... It cost me an arm and a leg and a little bit more...
...............
Due to unforeseen circumstances, (which I will not divulge here) I had to skip the Siemens Run... That however did not deter me from waking up early to get in my weekend workout. To compensate for missing the run (which btw saw 4200 participants), I ran 17kms around Kota Kemuning in 1:42:41, which saw me putting my new NB MR903LW on a middle-long distance run... I'm pretty glad the lightweight cushioning could take the pounding and I didn't feel any soreness or pain after the run... King of the Road, here I come!
During J's girl's-only outing with SL, she recommended a restaurant in 1-U serving Japanese fusion food called Pasta Zanmai located next to Yishion and Carl's Jr...
We decided to try it out and boy we're we sold! The decor was minimalist and simple... (Don't harp on the pics, lighting wasn't optimal and camera was actually a phone)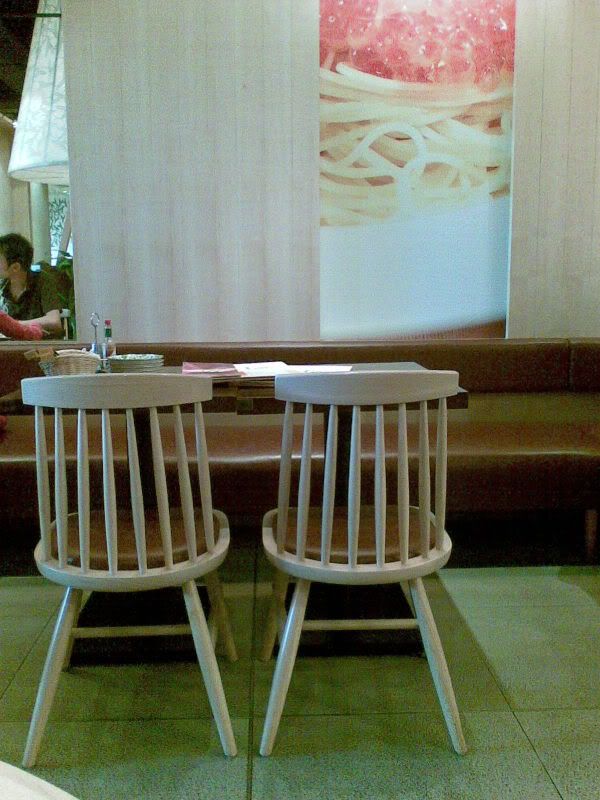 The food was great and seriously delicious!! We had Soft shell crab no gomadare shitate (Soft shell crab with pasta in sesame cream sauce) and Unagi kabayaki to onsen tamago (Grilled eel in barbeque sauce pasta with hot spring egg) and the soft shell crab pasta comes highly recommended...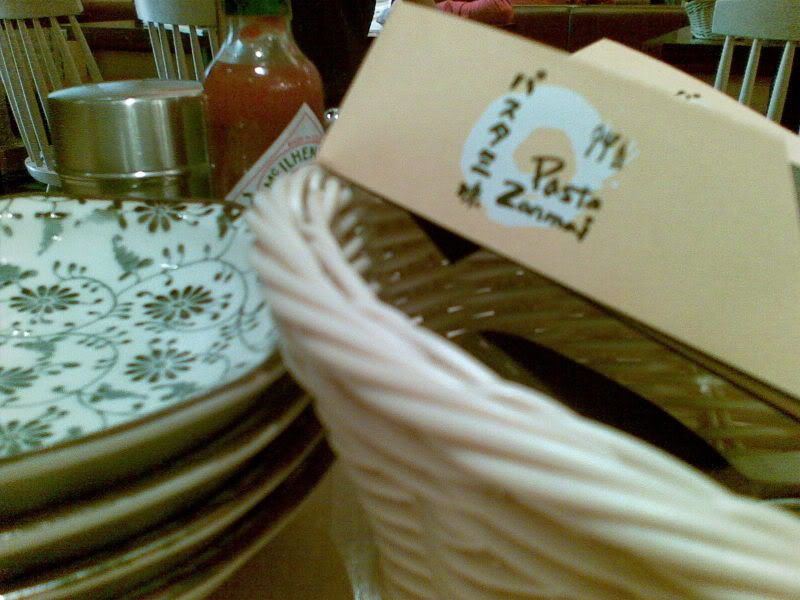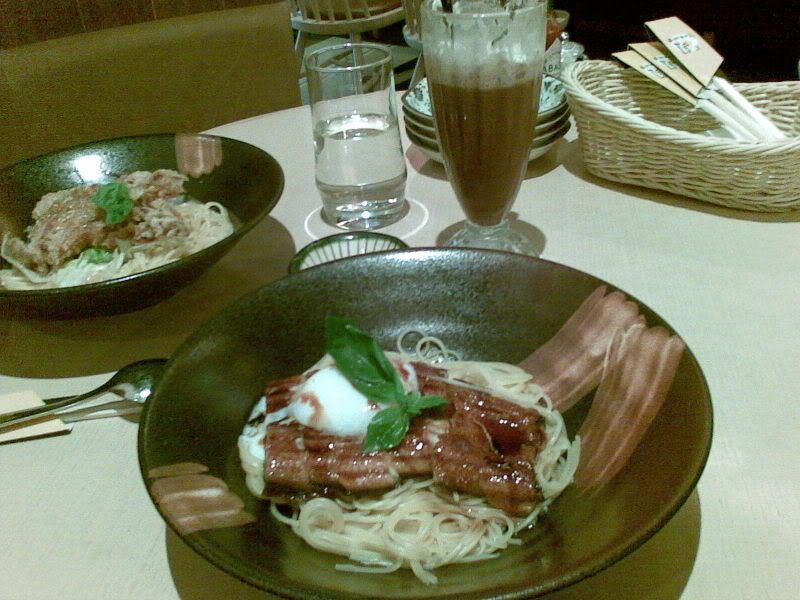 I'm skipping the close up pics of the food as all you can see are blurry noodle-like pasta and shiny condiments.. Meal for 2 came to close to 60 bucks, and its not exactly economical in times like these, but once in a while, if you wanna enjoy a good meal, I'd recommend this place..
Spent the rest of the afternoon walking around 1-U, but did more of browsing rather than any actual shopping...
A 3-day weekends draws to a close as I write this... Tomorrow, its back to the daily grind of deadlines and inconclusive meetings...