Dear Bob...
Bob's Sanctuary,
PO Box 221108,
Mummy Tummy.
16th June 2008
Dear Bob,
How are you getting on? This is the first letter from mummy and daddy to you. We have so many things to tell you, other than the small talk we make before mummy goes to sleep at night. Do you feel daddy's love when daddy rubs mummy's tummy? Daddy sometimes feels you squirming around... Is that your way of telling daddy you know daddy is there?
Mummy and daddy did a lot of things over the weekend you know... The main highlight was going shopping for your stuff.. Altho we do not know whether you'd be studying in Convent or Saint Anthony yet, we thought it would be a good idea to get some neutral colour clothing for you first... That, and the insatiable need for mummy and daddy to go buy baby stuff... hehe.. So guess wat, you have your very first set of tops and bottoms.. and a host of other stuff like nappies to cover your naughty bits, bibs for when you drool all over daddy and baby wipes when you poo-poo all over mummy..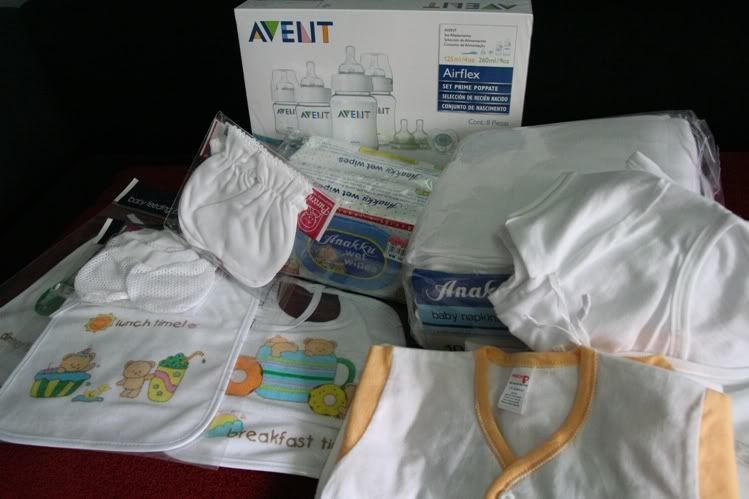 Bob's stuff...
Daddy knows that you must also be getting a lot of nutrients from mummy, as well as a lot of junk food... haha.. Yea, mummy is a bit of a diverse eater isn't she? Did you enjoy the durian? How about the vietnamese noodles that mum had last week? Was it a tad too sour for you? Mummy says you like spicy stuff, that's why she's been downing curry and curry and curry the past few months...
Next time daddy rubs mummy's tum-tum, make sure you give daddy a solid kick like you're gonna score the winning goal in EURO 2008 ok? Daddy looks forward to feeling you everyday...
Till next time, happy growing and remember that mummy and daddy can't wait to hold you.
Lotsa love.
Muaks and kisses,
Mummy and Daddy.
p/s: Mummy and daddy are nick-naming you Bob first, before we find out whether you're having a wee-wee stick or a wee-wee well. By early next month after we find out, we'll look for a nice name for you, ok? Until then, you can be Bob or Bobetta. =)