Adidas - King of the Road
... but luckily I didn't 'Kong' on the road...
I had been nursing this nagging hamstring strain for about a week and every single day that the King Of The Road (KOTR) event drew closer, I got even more worried about whether I could last the full distance without injury or cramping.. Well, looks like I turned out OK!!
And to keep a long run story short, I'll just provide the gist of the event:
6:00am - arrived at Dataran Shah Alam with Andrew
6:30am - warmed up with some light running and stretches
6:48am - gun went off to mark the flag-off for half-marathon categories
2 hours 8 mins and 39 seconds
later, I crossed the finish line to receive a finisher's medal and certificate.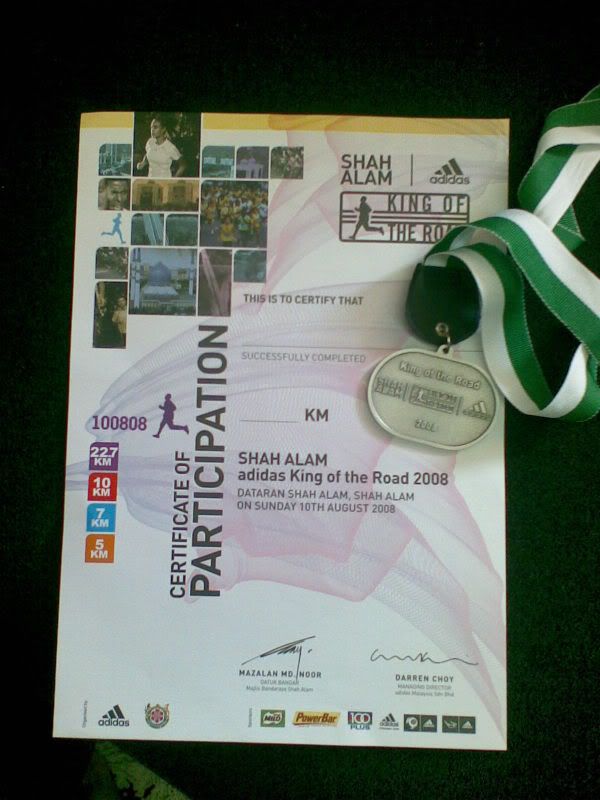 Medal and cert...
Nice parts of the race:
- Can't remember any
Ugly parts of the race:
- Distance markers way out
- refreshments stations not evenly spread out and no water (all 100+)
- not very good traffic management
Race specifics:
Actual distance: 22.17km (My 405)
Total timing: 2:08:39
Average pace: 5:48/km
Calories burned: 1632 Cal
10km split time: 0:57:50
21km split time: 2:02:11