2008 Kona Ironman Champions!!!
A big salute to Aussie Craig Alexander and Britain's Chrissie Wellington!!!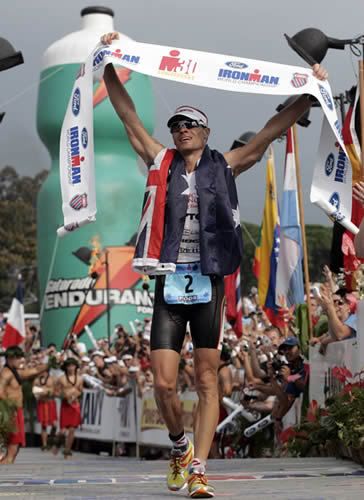 Runner-up in Kona in his maiden attempt last year, Craig wins the biggie this year, blitzing an elite field comprising defending champion Chris McCormack, former world champions Normann Stadler and Faris-Al Sultan, and a host of other strong contenders for the throne... Craig's winning time of 8:17:45 was achieved by running a 2:45 marathon off the 180km bike ride...
Chrissie Wellington defended her world championship title with a hard-earned 9:06:23, also with a blistering marathon time of 2:57:44, shattering the course record. This came after a 10 minute delay on the bike leg with a flat tire... and she still came in ahead of the runner-up with >10 mins to spare...
#Photos courtesy of Chris Stewart/AP Photos