SBR
I did a triathlon-training yesterday...
Swam in the pool for 30 mins, then mounted my bike on the trainer and churned out 45 mins, then laced up my shoes and ran 60 mins...
I guess from the above workout, you can see which type of 'event' I like best... I guess I enjoy running the most; if I only had time to either swim, bike or run, i'd be lacing up my running shoes everytime.
I'm not much of a swimmer... never have been... prolly never would be. Water isn't my greatest ally, and I actually dreaded washing my hair when I was small, always fearing that water would get into my eyes and ears and nose... guess fears when you're a lil boy always come back to haunt you...
Biking too isn't my forte... true, the scenery does go by faster compared to running; true, you get the wind in your face and freedom kinda feeling when you're rolling at 40km/h; true, you cover more ground and you explore more places when you bike.... but still, it doesn't really appeal to me much the same way running does...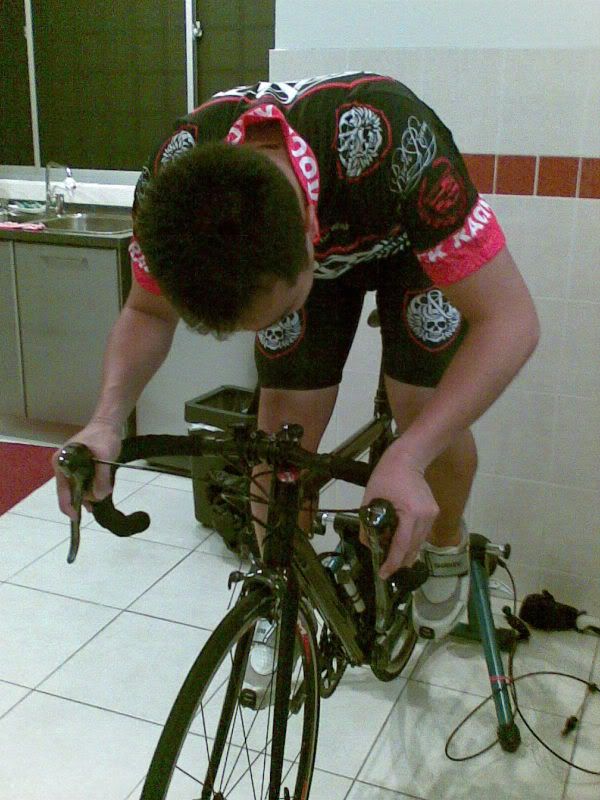 Hitting the trainer takes a lot of mental effort...
Running... I can't really tell you what running does for me.. or why I like it or prefer it over swimming and biking... just that, I enjoy it.
Neways, prolly if I spend more time biking or swimming, I might learn to like it more, but as it is, with a full time job, a part time job, a baby on the way, how much more time would I have to split between these 3 'events'??
Looks like that pair of goggles and that bike helmet will be sitting on that shelf just a little longer.