Last 3 Races of 2008...
Running races I mean... after all, I did sign up for the Putrajaya International 12-Hour Walk in mid December... But that's not to say that I won't be running anymore this year, just not taking part in events.
I probably should have updated on the Pheddipidations Challenge and the NB Klang Pacers 12km run last week but I was just plain lazy.... The pain in my hamstrings prolly got to my head as well...
Well, there's actually nothing much to write about the runs that I take part in, so here's a brief summary of what happened over the 2 weekends..
Saturday before last, I did a personal solo run for the Pheddipidations World Wide Challenge (as you would probably have read in my earlier post) and I started my run at 6:00am. It was a long slow distance run and I finished the 21.1km in 2hrs 15 mins. Definitely not my best time ever but I had to save my legs for the following day when I'm due to run the NB Klang Pacers 12km. I actually took this opportunity to 'train' my body to burn fat as fuel instead of relying solely on glycogen (running and nutrition jargon that is another subject altogether).. So i'm proud to say this... "I ran 21.1km without any refuel" :)
Sunday morning, I ran the New Balance Klang Pacers 12km with my younger bro... My plan was to go slow as my hamstring was still feeling strained and I decided to pace my bro for the 1st half of the race, and to push myself a bit harder if my legs feel up to it... And so it was that... 1st half of the run, I was averaging 6+ mins/km and 2nd half of the race I was averaging 5+ mins/km... Total time taken to kau-tim the race: 1:14... No pics tho from the race...
Yesterday, was the Mizuno Wave Run. A 10km event that had really wide coverage, as lots and lots of people signed up for the event... Many casual runners and beginners and 1st timers took part and it was really good to see running as a sport picking up in terms of popularity... An estimated 3100 runners took part and as every category was flagged off at the same time (due to the usage of timing chips, I presume), the start line was like "the great wall of runners".... If you started at the back, you would probably be shuffling or walking along for the 1st 2km before the runners start dispersing with the pace.... Talk about hitting the wall in the 1st 500m!!!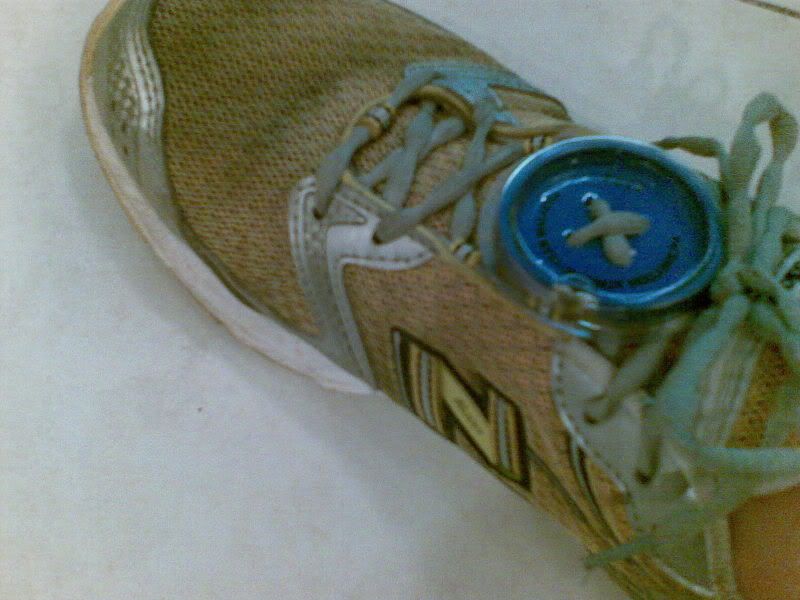 The timing chip... different from 'normal' chips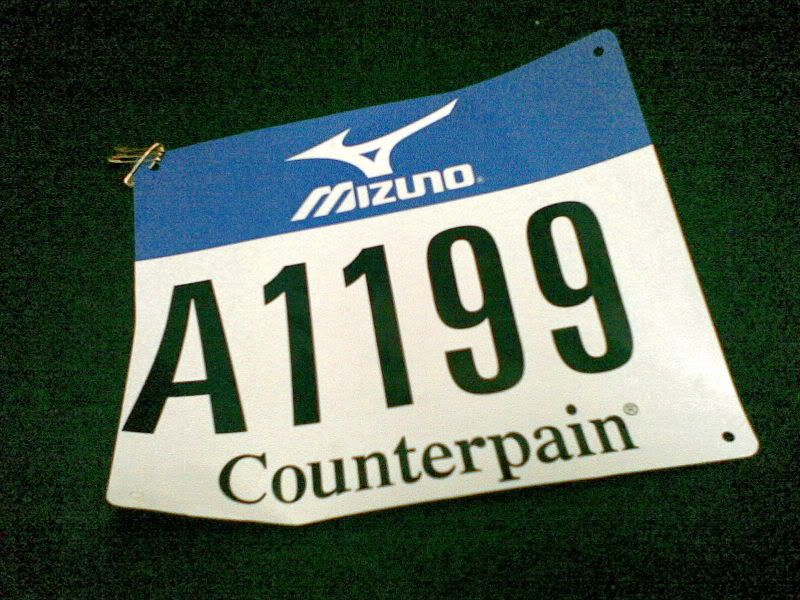 My #... means more than 1200 runners in the Men's Open Cat
The run started at 7:30am... and I think the organizers should have started at 7:00am... It started to get pretty warm and hot early on in the race... and by mid-race, I was sweating buckets.... Another grouse was the miniscule paper cups they used to hand out water at the drinking station and at the finish... It was so small, I think each cup prolly held like 30ml of water...
Neways, the overall organization was spot on and I would say it was an excellent experience for the newbie runners... I finished the 10.2km distance in 0:55:35, also not exactly my best 10km time, but quite happy with it as I achieved negative splits (2nd half of run faster than 1st half) and I haven't been running tempo runs lately...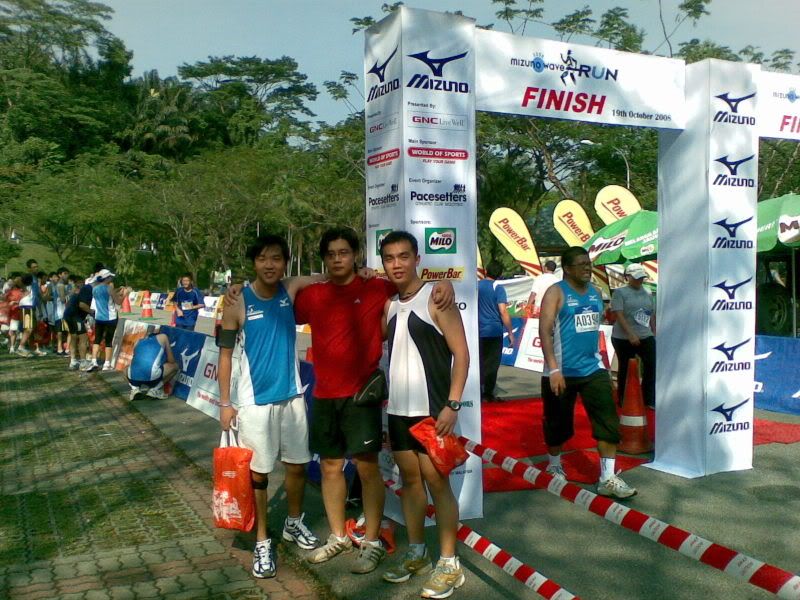 Bro, Plum and Me at the end...
Next up, Powerman simulation next weekend.... 11km run - 64km bike - 10km run... another solo effort worth about 5 hours... It is going to be mental, it is going to be physical, it is going to be hard. Updates again then.... over n out.