Reviewing The Nike Lunarglide+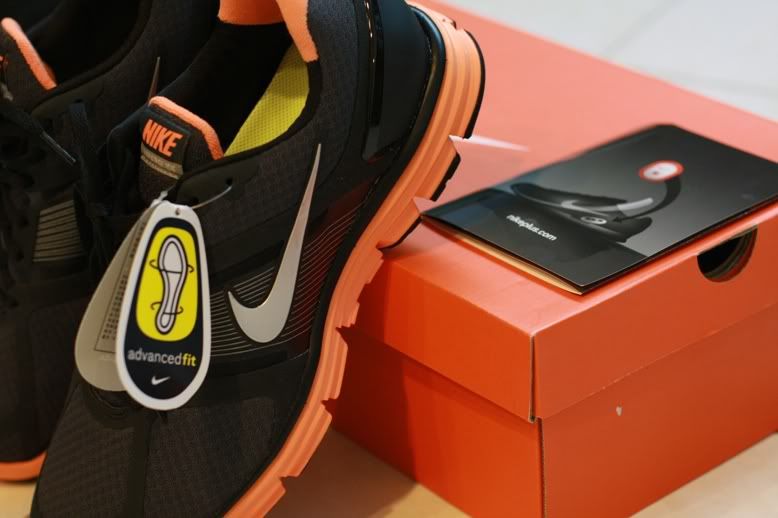 2nd July 09 - Out of the box, and never back in again.
5 runs, 4 hours plus and many many kilometers later, I am now ready to give my verdict on the Lunar
glide
+.
However, before I get to that, just to recap, I received the Nike Lunar
glide
+ courtesy of
Nike Sales M'sia
on 2nd July 09 from their office at The Curve. Promised to test out the shoes and give my honest to goodness opinion, and here I am, putting it out on the world wide web.
Since then, I have done 8 runs (training runs, not races mind you) and 5 of them have been with the Lunar
glide
+. At the moment I have 3 "active" pairs of running shoes, including the Lunar
glide
+, with the other 2 being a Brooks Adrenaline GTS9 (a stability trainer) and a Newton Stability Trainer (more like a racer to me as it is lightweight enough). If I were to summarize in 1 statement, I'd say the Lunar
glide
+ falls right smack between my other 2 shoes, with the Brooks as a long distance trainer and the Newtons as a short distance speed racer.
1st impressions of the Lunar
glide
+ are that its lightweight enough (for a heavy-set runner like me) to do 10k's and up to half-marathons. I'd doubt the durability and comfort if I were to extend the usage to beyond the 21km distance as I would prefer something with more cushioning and stability. Fact is, I'd say the Lunar
glide
+ is an all-rounder, a jack-of-all-trades, with the right amount of cushioning, comfort and weight for a middle distance run.
Since I took up running seriously in 2007, I had only used 3 different brands of running shoes: Brooks, New Balance and Newton. The Newton is the 1st shoe I bought that didn't come in 2E width and I'd say that comfort and fit wise, it didn't rank as highly as the Brooks and NB that I had (both 2E widths). I have pretty large feet; size US11 and 2E width and I slightly over-pronate as well. Therefore, my feet feel most at home in stability runners.
Coming back to the Lunar
glide
+.... Its patent-pending "Dynamic Support" midsole architecture is what makes me (a guy needing stability shoes) feel comfortable running in them. According to their Global VP, Leslie Lane (and I quote)..
"Runners traditionally had to choose between stability or cushioning shoes based on their foot strike... Now, runners can choose a single shoe that will respond to all of their needs, even adjusting on the fly during a run."
With the technologically advanced Dynamic Support system, the Lunar
glide
+ actually combines cushioning and stability into a single pair of shoes, practically giving you the all-in-one solution (and blowing the competition out of the water??)
Technicalities and specifications aside (you can get that from Nike's website and the numerous other runners' blogs trialing the Lunar
glide
+), how does it perform? How does it feel on a real run on tarmac? Don't preach the superlatives if all they can do is ace lab-tests right? The verdict is on:
The Lunar

glide

+ works great!!
Initially I was quite sceptical. Every run I did, I tried to look for a failure point, some form of discomfort, something to complain about. I have to be honest and admit there are some minor niggles, ie shoe width fit-wise isn't really roomy enough for me and it could probably do with a little more ventilation, but overall the Lunar
glide
+ is everything it is touted to be. 5 runs down the road, I feel that with every run, the comfort level increases a little bit more; pretty much like breaking in. And most important of all, my feet feel great after each and every run. No pain or aches in my arch, heel or balls of feet. Sore muscles are another issue altogether tho.
There is however a
BIG
grouse I have, and its pretty personal in nature. I just can't accept the colour! No siree! Black shoes are just not me. The 1st time I ran in them, I felt very self-conscious and kept looking down at them. 2nd and 3rd time... same thing. I thought that the more I ran in them, the more at ease I would become. After 5 runs, still the same... I can't shake off the "people look at me funny" kinda feeling.... If it came designed in any other colour (the women's version is of silver-hue, for what its worth), I'd have no qualms shelving out the RM399 it costs to take them off the shelves. But for now, I need a little bit more time to get accustomed to the "black is cool" style.
In a nutshell:
PROS:
Comfortable heel and midsole cushioning with adequate pronation support, simplistic look and design, flywire incorporated design brings the weight factor down, grippy outsoles
CONS:
Not roomy enough for 2E feet (adequate tho), slightly lacking in ventilation,
BLACK, BLACK, BLACK