Jalan-Jalan Cari Makan
So, what did you guys do over the long weekend? Ok, I presume this only applies to those who took Monday off, but I also presume that's like 90% of you people out there...
Well, me and J took a slow and leisurely drive to the East Coast; our first real trip there. Real here meaning that we went to Terengganu before, but it was a whirlwind trip then, and had no time to smell the roses, or in this case, the keropok lekor...
We had booked ourselves into Swiss Garden Resort, Kuantan; which is not exactly located in Kuantan, but more of vicinity of Cherating. Place is way cool,... nice ambience, nice decor, nice room, nice view, nice beach, kinda like nice everything la.... Its a place I would recommend to honeymooners and also lovebirds.
Room-antic...
The drive East took us >3 hours and took us past places with names like Lanchang and Gambang... Not nice sounding, but quaint and serene places... J's colleague M gave us some pointers on where to eat local favourites and our first stop was Hoi Yin coffeeshop for their famous curry noodles...
Now you see it....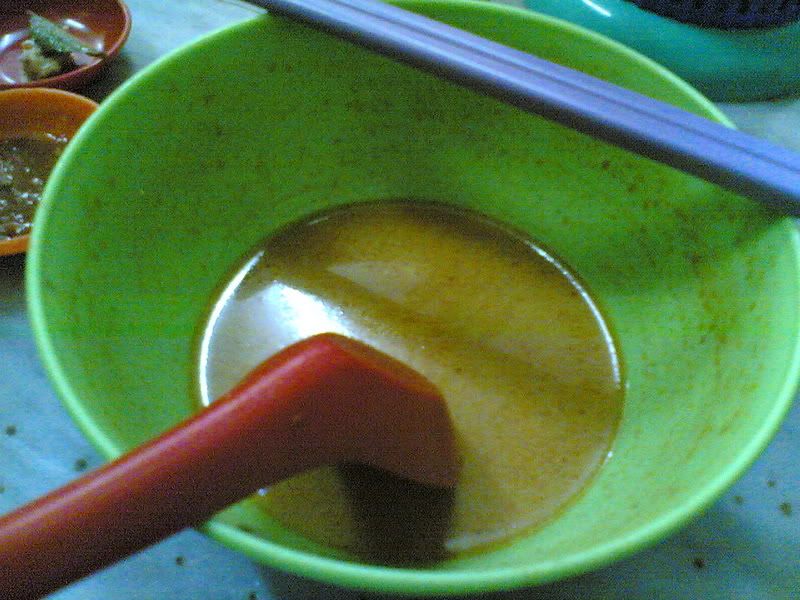 Now you don't...
I can't say it was the best I've had, but it doesn't disappoint either... This coffeeshop sits smack at the end of the road leading to Teluk Chempedak... You definitely won't miss it. Patrons sitting right out to the walkways and standing around waiting for empty tables...
Spent the rest of the afternoon lazing around and doin stuff... wat stuff? Stuff la... Heheh.
Oh yeah, we also did a pitstop at the Turtle Sanctuary...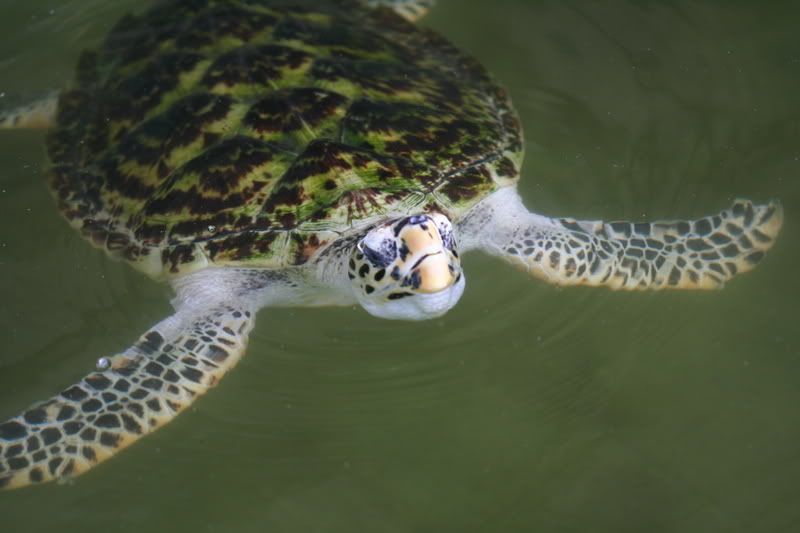 Hawkbill teenage mutant ninja turtle wannabe...
Next gastronomic destination was a place called Terminal Satay Zul. We ordered the chicken satay and some nasi dagang. Delicious. Yummy. Definitely worth going back again, if I'm ever in Kuantan. That place was also filled to the brim and many had to wait their turn to get a table.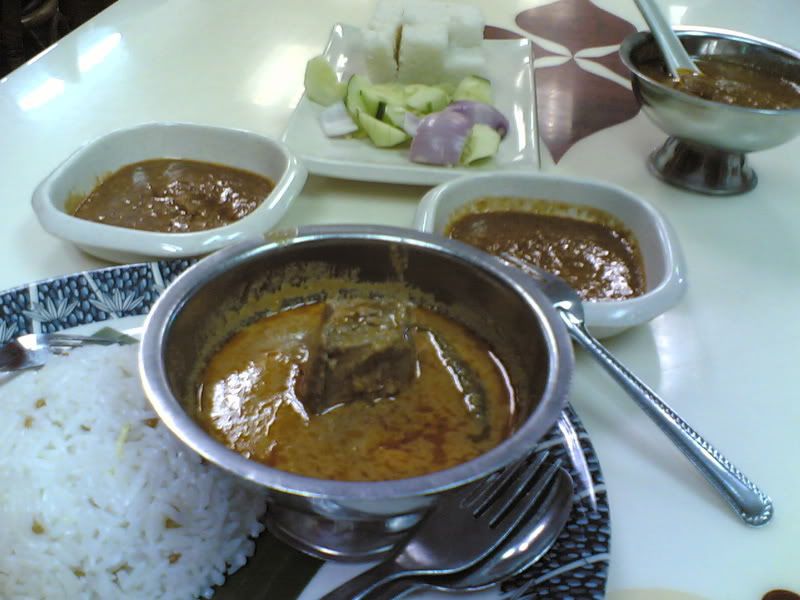 Nasi dagang with sardine curry... yummers..
By the time I snapped this, half the satay was gone... =P
OK, you have to forgive the somewhat pathetic photos, cos they were taken with my camera phone. Its kinda difficult to lug around my cam with the bustling crowd in the packed restaurants. Wouldn't wanna risk having teh-o' ais limau raining on my cam now would we??
Fast forward to next day's lunch... I'll just be yapping on and on about the food, cos to us; this was a planned relaxing getaway and something akin to a jalan-jalan cari makan holiday... An hour's drive and we found ourselves entering Chukai town in Kemaman... Place is famous for stuffed crabs it seems, and we navigated ourselves round the town in search of the particular restaurant.
Found it. Restaurant Kemaman right at the edge of the waterfront. Plonked ourselves down and proceeded to order. 30 mins later, food had not arrived yet. Small towns like these really take their time when doing things, even service. But there's just no complaining I guess.... It seems to be the norm. Everybody sitting and waiting patiently without even beckoning to the waitresses to check on their orders...
About the food, we ordered stuffed crabs, steamed grouper, dried chilli scallops and green leafy vege in garlic sauce... I know, its way too too too much for 2 people... but its a makan-makan holiday, remember?? Hehe.
The stuffed crabs came in individual plates... Nothing to shout about really..
By the time I remembered to whip my phone out, it was all gone also....
We then went round town, stopped at some dinghy, dodgy, smelly, dank and dirty shopping complex for a while.... and on the return trip, stopped to get some keropok for me mum...
Called up another ex-colleague for more food recommendations and was told to get to a place called Restoran Sri Mahkota in Kuantan, opposite Citiview Hotel. That was our stop for dinner. Food was pretty good, and dirt cheap too. We had salted fish fried rice, generous helping of squid in tangy mayo sauce, some green vege that i do not know how to translate to English and drinks.... all for less than RM30. Helpings were so huge, we had to bungkus balik hotel.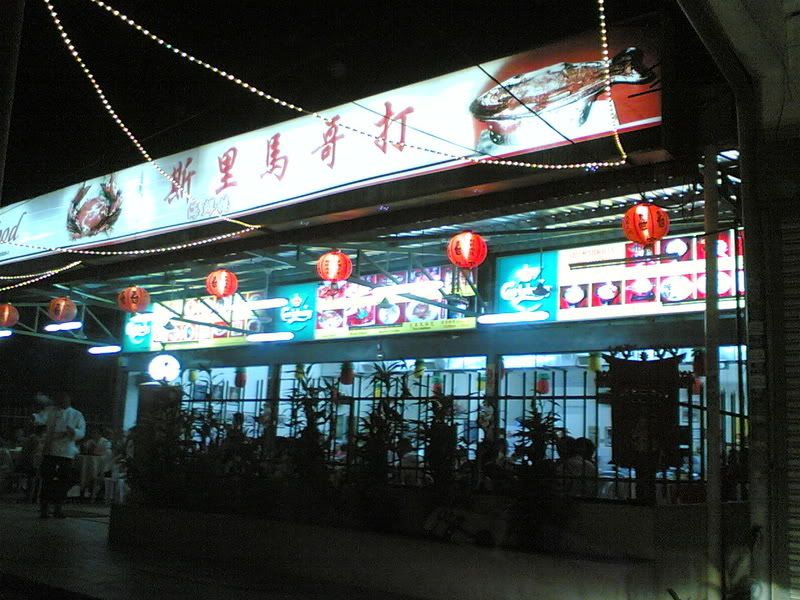 The restaurant...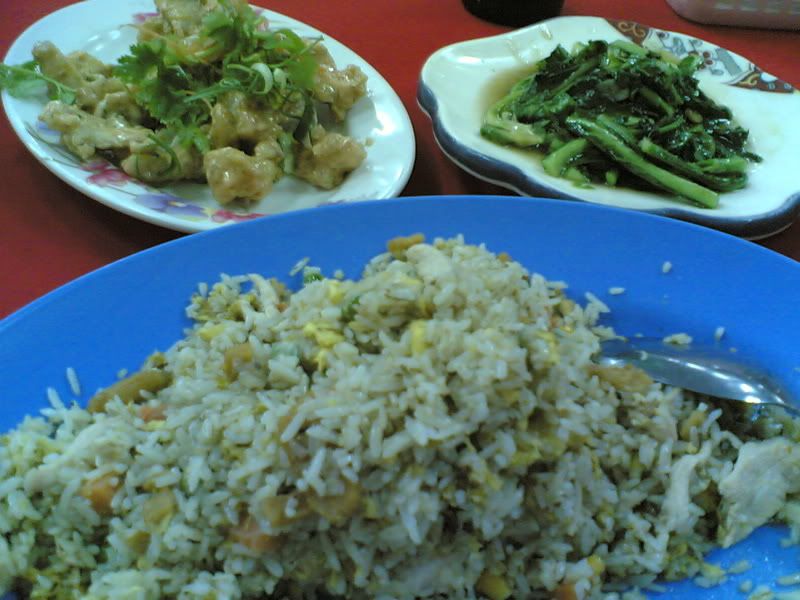 BIG plate of fried rice.... way too big for two of us..
Full and satiated, we decided to walk around Berjaya Megamall... I suppose this is THE place for shopping for Kuantanians.... but it looked no better than umm... errr... Subang Parade. Fullstop.
Final day. Woke up early for some sunrise and some relaxing time at the beach. J was like a lil kid running around the beach and kicking sand... Just love to see her so excited...
J doing her impersonation of the Statue at Rio...
Lepas lunch, we also took another long drive home... guess we were pretty tired by then.. as the return trip home took longer and proved to be more tiring than the to trip....
Anyway, if you've never been to the East Coast... do make a trip there. Its really not too bad.