A Lazy Weak-End
J and myself don't normally have much for dinner. But we do enjoy the occasional "try something new", especially on weekends. So it was on last Fri nite that we decided to head on to Taipan, USJ for some Korean BBQ.
I seriously don't remember what we ordered in Korean, but it was to the tune of barbecued marinated pork in special sauce, some glass noodles thingy and of course, loads and loads of kimchi. (Maybe MT can help out on the naming convention..)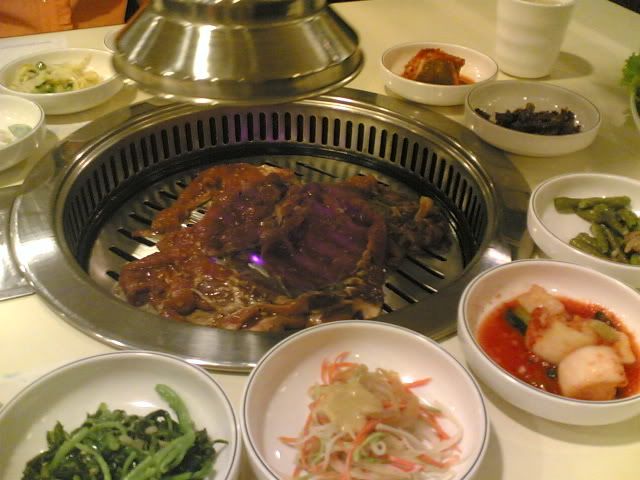 I wouldn't say the food was par excellence, nor was it par non-excellence... it was just par alright. Ambience was good, service top notch and the place was packed like sardines. Yeap, it was a classic case of people waiting to get a seat. My ratings you ask? Out of 5 stars, I'd give:
Food: ***
Ambience: ****
Service: *****
Price: @#$&@
Btw, J went up to PG over the weekend for some work, so I was left all alone. And as they say, when the cat's away, the mice come out to play... :-p
But I'll skip all the play, dun want the pussy to find out now, do we?
Something else worth noting. I was on the way to KLIA to pick J up on Sun, and the stretch of highway was open and clear. So, lightly touching the accelerator, I started to ease past 115km/h, as I was about to touch 120km/h; this monster of a humongous trailer barreled past me, on the slow(?) lane, and I was unable to stay with him, even at 120km/h.
No kidding. Check out my speedometer.
How many times have you seen this happening on our highways? Especially express buses. I remember when I was in Uni, going home for the festive season, having to take a night express bus; it was a "fear for your life" ride and wondering whether I would live to collect angpows. And since I'm still living to GIVE out angpows, these people must have damn solid driving skills, or SomeOne somewhere loves me a lot.
Come to think of it, I could be a bus driver.