D'House Treasure Hunt !!!
Expect the unexpected! That's the battle cry for people working in this company (ie. company I'm working in). So, on a bright, not so sunny afternoon that was yesterday, my department organized a treasure hunt, within the office, during working hours!
A motley crew of close to 130 of us dressed up in t-shirts of paddle pop colours, ran around the office, trying to solve super easy clues. But well, it wasn't all smooth sailing tho, there was this one clue where we had to locate this particular guy, and he wouldn't pick up our calls and nobody knew where he was to be found. And this guy kept moving around the office, even to the extent of gettin into his car and driving around the multi-storey car park!! The culmination of it all was a splendid BBQ dinner at the cafe by the waterfall in the glow of the setting sun.... Wah liu!!
Before that, typical presentation and announcement of winners was made (winning team got to date the Head of Dept...Ack ack). My team didn't get on the rostrum, but I was a winner nevertheless. I "won" some friends, and I guess at the end of the day, that's what's most important. :-)
Paddle pop-pians Listening intently to the confusing instructions

I feel like a 5 year old again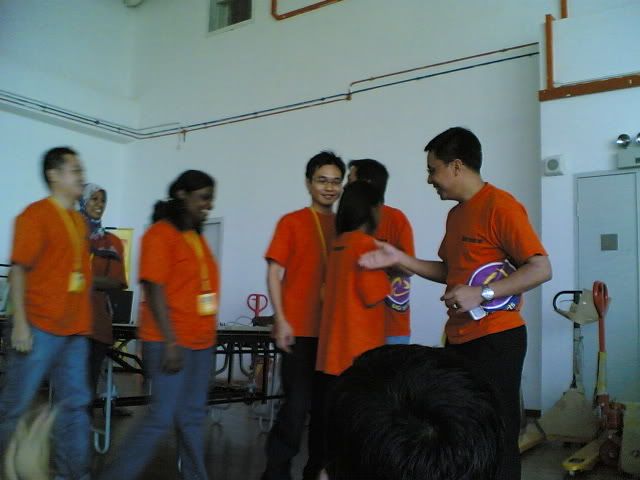 The winning team.... Movie date with the big guy

BBQ time!!