Finishing 2008 - Malakoff TTDI 12km Run
Fact is, I came into the last race for 2008 with barely 20km of running within the last 4 weeks... (Walking for 12 hours in the Putrajaya Walk doesn't count by the way...)
And that odd 20km or so was done at a snail's pace, more like just getting my ass out the door than serious training... Anyway, I thought to myself... "Last race already, might as well give it all i've got..."
I picked Jon and Lea Kin up from BU at about 6:15am and we proceeded to get to TTDI. Arrived in about 10 mins and was milling around the area when I lost Jon in the crowd as he went to relieve himself... While doin some warmin'-up, saw Bernard and we chatted for a while before lining up at the Start line waiting for the gun. Start was about 10 mins delayed and as we flagged off, the narrow path made running practically impossible with the sea of runners until there was a turn-off and the road became wider.... And that's where the "fun" started...
I had not run this route before, and I was pretty much "surprised" by the roller-coaster route,... loads of ups and downs and I don't actually recall any flats, save at the start/finish line... climbs were long and ardous and descents took a toll on my knees...
The route was a 12km run, essentially 2 x 6km loops and it was run in such a way that you could see the returning fast/elite runners as they returned along the same route... When the leading pack of African runners ran by, I could've sworn I head a "swoooosh"...
With the climbs and descents, I was holding a sub 5:30/km average pace for the 1st 5km and a sub 5:45/km pace for the 2nd 5km... Last part of the race was run in a slightly faster pace as the finish line was near... Total time taken to complete: 1:00:39 for an under-distance race.. (Garmin405 recorded 11.16km).
I guessed I should have pushed myself a lil harder to do sub 1 hr, but as it is, I was kinda satisfied with my efforts, seeing that I had not run much for the past few weeks...
Jon did pretty well too and Lea Kin covered her 6km run strongly. We adjourned for breakfast after the race and all in had a pretty good time.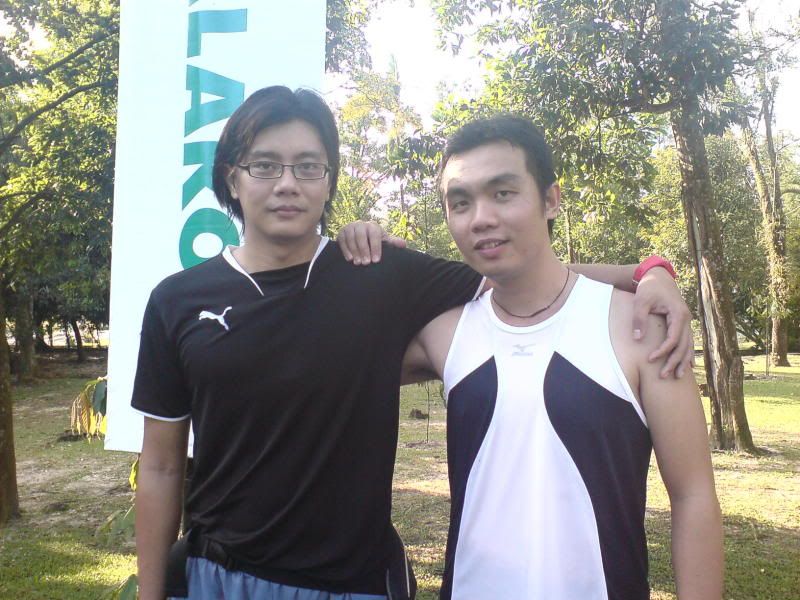 With Jonny boy..
It was a fit closing to 2008, and my running mileage for 2008 would have exceeded 1400km by the last day of December.... 2009 beckons with new goals and new races... see you then!