Standard Chartered KL International Marathon - Done & Dusted
Yeehar! Struck it off my life's to do list (check out my sidebar if you don't know what i'm yakking about)... Finally I finished a marathon, can't say I ran a marathon cos technically I walked a big chunk of the distance, but what the heck, i'm certified a marathon finisher!!
Not planning to go into the details of my pre-race preparation, or the fact that I didn't have any significant training for 6 moths prior to last Sunday, nor the fact that carbo-loading wasn't a part of my diet leading to the race. Nope, neither am I going to talk about the tapering part of training (actually you can say that I tapered for the last 6 months... haha). As a matter of fact, my main worry was whether I'd fit into my running shorts the night before the race. Thankfully I still could. :)
Race day morning was pretty much like any other race day that I had been to before... only difference was that I hooked up with the KK Pacers and went together as a big bunch of eager-beaver runners hoping to do well in the race. Btw, thanks guys/gals for waiting for me at the finish line even though it took me forever to get there... :)
I could say it was a pretty muted start to the full marathon. Sure, there were more than 2000 runners waiting in the pen, waiting to be unleashed, waiting to smoke the road with their Asics, or Nikes or Reeboks... but the atmosphere just wasn't carnival enough. Gun start went off and there I went, the first few steps of what was going to be a few (hundred?) thousand steps to come in the next 5 hrs +...
Settled into a slow and easily maintainable pace in the 1st few kms, not wanting to blow myself out early and risk taking the sweeper bus home. Also at the back of my mind, I was pretty worried about how long i'd actually last before cramps / strains / muscle tightness creeps in... Lack of training and preparation really comes back to haunt you on race day. In fact, my main worry was my right hamstring as I had felt tightness throughout the 2 days pre-race and even on race morning... nonetheless, the hamstring was the least of my worries... turned out that tightness (and the impending onslaught of heavy cramping) was targetting every other part of my body...
To cut a long story short (all 5 hrs 47 mins and 37 seconds of it), both my quads tightened up, my left calf knotted itself inside-out, my chest muscles felt twinges of pain and some chafing started on my inner arm. Pain management 101: when you can't run no more, just walk it off till you can run again. And that was the story of my maiden marathon. Run - pain - stretch - walk - run - pain - walk - run - pain - walk - repeat. You get the drift. After 32kms, I was walking 85% of the time.
Its funny how the human body works, or maybe its all in the head. When you see the finish line 300m away, and the crowd starts getting bigger and louder, you seem to forget that you were walking the past 2kms, battling pain and suffering through your teeth... you forget all that and you can actually break into a run and make a dash to the finish line... That's what they call a finishing kick or a finish-line sprint. How the hell do you muster enough energy to do that when you could barely walk just a couple of mins ago?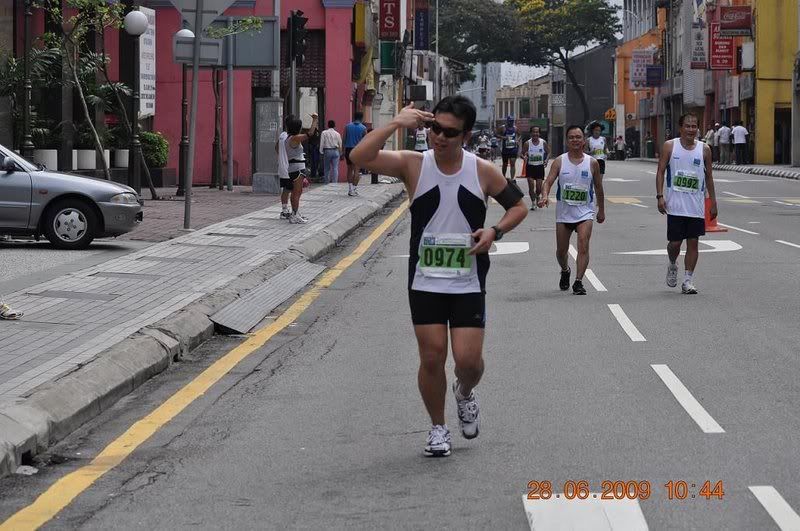 Thanks to Wenny @ KK Pacers for this pic... Its near the finish line and I look fresh and energetic, like i just started running, when in fact I was suffering for the last 20kms. Proves my point above.
And what do i get out of torturing myself for nearly 6 hours you ask? A crappy cotton t-shirt that says I finished a marathon and a round pewter medal that says the same. Worth it? Guess I can say I didn't run the marathon for the medal nor the t-shirt, but to prove to myself that I can do it. Would I run another marathon again then? Hmmm.... I guess I'd have to say I'd prolly want to run another 41 more... 42 of 42kms in my lifetime... Haha!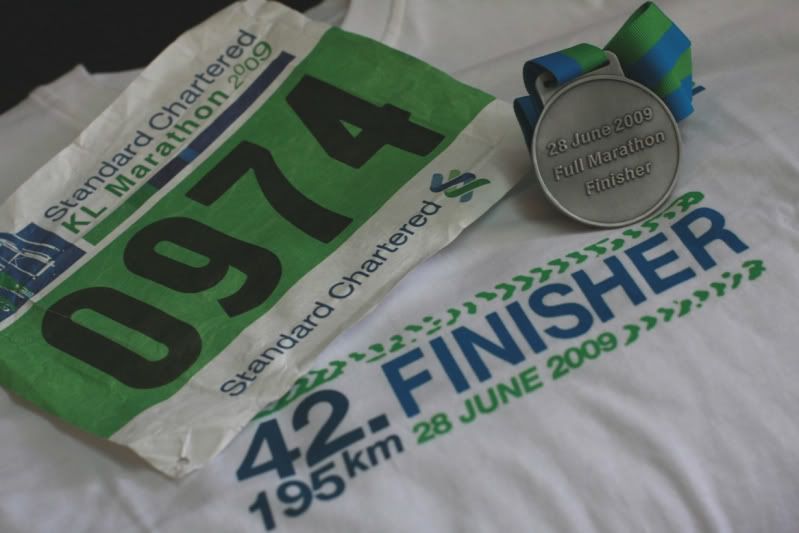 Maiden Marathon bounty..