Eugenobot vs Jaclynticon
We watched the premiere of Transformers last night!! Courtesy of DiGi: Always the smarter choice...
I managed to snag meself a couple of VIP passes to the premiere at 9.20pm at Cineleisure from me boss; and J and yours truly had the time of our life... It was actually our very 1st premiere attendance, as we're the kinda people who prefer to let the crowds cool down first for any big screenings and only watch the movie like 2 weeks later.
Tho, with DiGi being the main sponsor of the show and me knowing that DiGi always make things fun, we decided to lap it all up. Got there at approx 9.10pm and was promptly ushered into the preview lounge where there were finger food and drinks awaiting us...
We had VIP-Transformers stickers on to show the ushers who we were..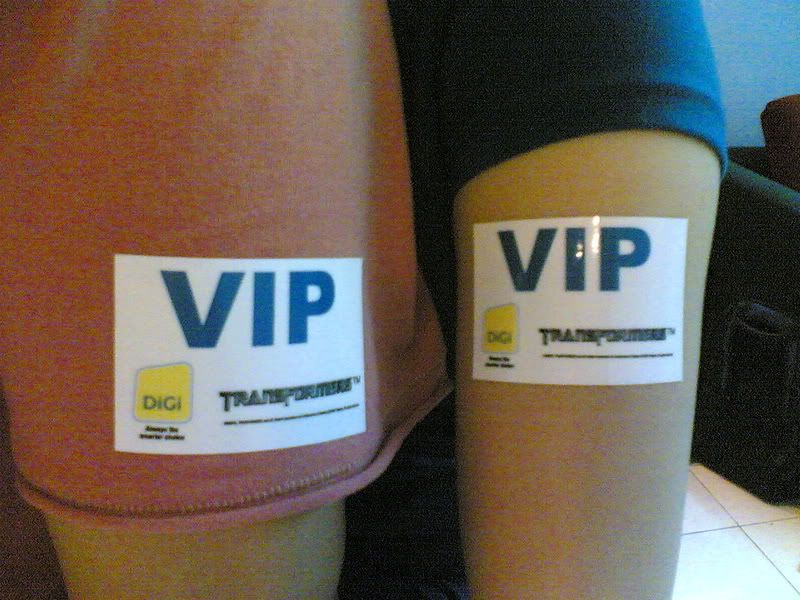 Damn syiok wei.. We got ourselves a goodie bag with transformers toys, some handphone accessories and posters...
We also had VIP treatment in that we got to go into the viewing halls first and promptly plopped our asses onto comfy couple seats... Movie started at approx 9.30pm and ended late at about 11.51pm...
There was supposed to be some Q&A session with chances to win freebies and more Transformers toys, but we decided it was pretty late already as we are seriously 2 old farts who need our beauty sleep.... So that was it... Movie was thoroughly enjoyable and thumbs up to DiGi for a premiere well organized!!!