Port Dickson Half Marathon Holiday
J and I were in PD over the last weekend for a holiday getaway cum (me)running the PD International Half Marathon. We booked into the Avillion Admiral Cove, which is situated near the 6th Mile along PD main road, next to the Admiral Marina Leisure Club.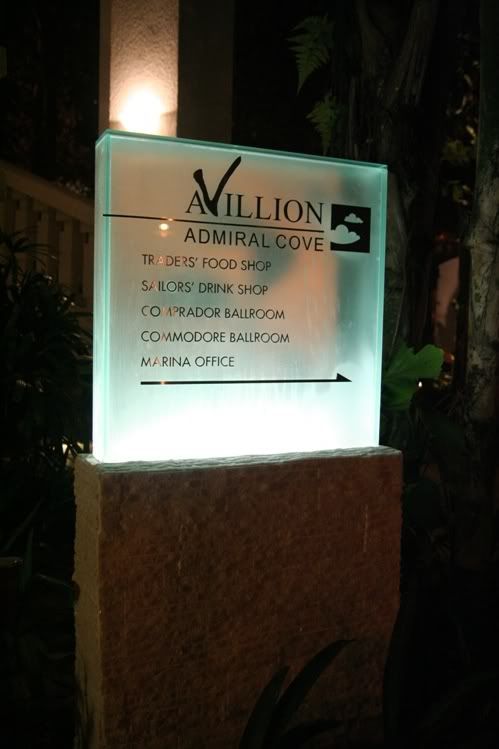 We stayed at the Avillion Admiral Cove...

Fact is, I had never been to PD my entire 29 years of existence and I was pretty excited to go there and also have a run (which I hoped to be a scenic route)... We arrived there in PD after a slight crawl along the highway at about 2:30pm on Saturday and proceeded to the hotel lobby to check in. First impressions of the place were quite disappointing, with the lobby having a natural cooling mechanism (read: windows and fan, no air-cond) and it was pretty sweltering then... The initial disappointment was compounded when they did not have any more double beds, and we were given a room with a twin bed... whereby I had to do some 'renovation' by myself..
Room no 1314...
With that behind us, we settled into the room (with no view) and had a nap... It was supposed to be a laze-around-and-do-nothing holiday, and not the make-full-use-of-time-quickly-get-ready-and-go-out-sightseeing-trip we were so used to...
Collection of race t-shirt and bibs and goodie bags was at the open area next to the hotel. The t-shirt was the typical crappy cotton stuff, and the goodie bag was also laden with stuff that I do not use...
My race number and selected running vest..
Stuff from goodie bag... nothing much of use..
Evening came and we took a drive towards PD town and stopped by at the pasar malam (night market) and had a stroll around..
Hustle and bustle...
Ayam percik o'er the fire...
The sights and sounds reminded me of Pasar Ramadans that I used to frequent during the Puasa months. We had decided to go for seafood dinner, so we weren't looking to buy dinner at the pasar malam... however, the otak-otak and roti jala looked too tempting to resist and we finally caved in and bought some... And I tell you, it was yummy!!
Scrumptious roti jala...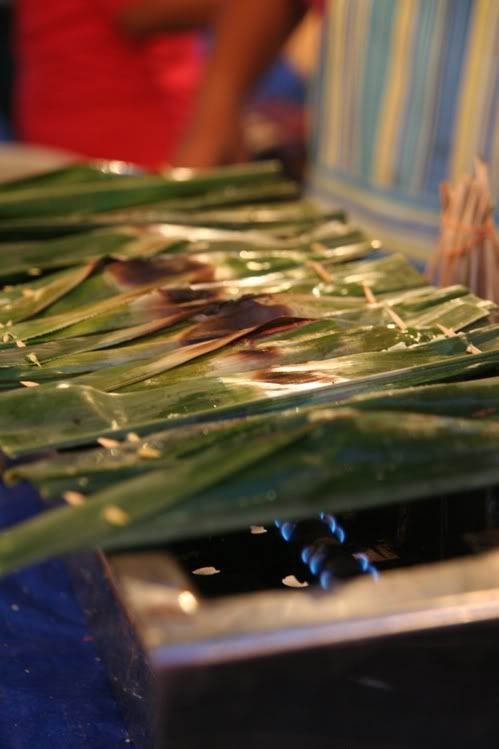 Yummy otak-otak..
We souted around for a seafood restaurant (there were plenty lining the main road) and settled for one which J had read of on teh internet... Since there were only 2 of us, we couldn't order much and I wasn't too keen to try anything to 'fancy' for fear of stomach repercussions the next morning during the run..
Sunday Morning:

My initial race plan was to run the race at an easy pace, and finishing just within the 2:30 set to qualify for the certificate. The finishers medal was only to be given to the 1st 100 finishers, so I wasn't really with high hopes for that...
I went down to the race area at about 6:45am after downing a half glass of milk, a twiggies bun and a box of raisins. Had my cytomax drink with me and I promptly did some warm-ups... at approx 7:20am, the organizer announced for the 21km runners to convene at the start line and to my astonishment, there were probably only about 200 odd runners (including both mens and womens category) for the half marathon. The majority of runners were taking part in the 11km run... This was where the organization started to suck pretty badly...
The handing out of race ribbons was done in a disorganized manner and the start gun went off pretty abruptly as well... And it didn't help that the race started at 7:30am... Most 21km runs start at 6am to protect runners from the heat... So I was ready to be barbequed in this race...
My initial race strategy went out the window wen I saw the number of runners... I mean, if I were to run at an easy pace, I'd probably be propping up everybody else by running in last place! Looking around, everybody seemed like 'pro experienced runners' who could easily manage a quick pace... And I seriously didn't wanna be last..
My pace started off at sub 6mins/km and I was already hovering around the bottom half... I thought to myself... crap.. this was gonna be a looooong torturous race... with the expected heat and the initial blistering pace... I was opening myself to a blow-out...
At about the 3km mark, I was joined by Jon, an expat who works in a similar line with myself... We were to pace together all the way till the end (or near the end).. It was good to have company for a little chit-chat as with the limited number of runners, we were all very spaced out and was practically running on our own the whole race...
We hit the 5km mark water station at
0:26:40
and that was where I was a bit worried with the pace... I normally never run sub 6mins/km pace in the 1st 5k, as I always like to reserve energy for the 2nd half of the race...
The 1st 5km was scenic as the route took us along the main road fronting the beachline... the whole 21km route was rolling terrain, not as hilly as the NB15km, and not particularly flat as a pancake as well... No serious climbs..
At the 10km water station, my timing read
0:55:06
, and this was even faster than my 10km best so far!! I was elated, but also a bit worried at the same time. Here, I downed my 1st gel... At around the 13km mark, I told Jon that I was probably going to blow-out in the last 2-3km if we kept going at this pace and we promptly slowed down a little... I think it was an understatement as the pace didn't really seemed any slower... Haha..
At the 15km mark, I hit my lap button to read
1:24:33
and that timing was quicker than my NB15km run... I was on sub 2 hour pace if I could keep this up!! However, the last 7 - 8km of the race was run on open ground, meaning there was practically no shade, no trees, and the sun was bearing down on us... Both Jon and myself could feel the heat and we were lucky to have our own hydration bottles to constantly sip from...
The organizers should have provided 100 plus or other forms of isotonic drinks at the water stations, instead of just plain H20 as runners would lose a lot of electrolytes running in the heat... I was pretty sure more than a couple of runners would have cramped up...
Near the end of the race, with about 1km + to go, I suddenly felt the onset of cramp on my left hamstring, feaing the worst and not wanting to hobble to the finish line, I decided to slow my pace to a jog (I was on 1:50:xx timing then) and asked Jon to go ahead and not wait for me... He was real sporting and wanted to continue running with me, but I insisted as I didn't want to slow him down and make him lose out on a sub 2 hr timing... After much insistence, he finally went off and I 'jogged' the last 1km to the finish line to complete my run in
1:57:11
... A personal best!!! And I also finished in 32nd position...
I was however a bit sceptical of the actual distance of the race, as I was sure that my effort vs my timing after 15km did not warrant this timing if it had been a full 21km... I suspect the actual distance is closer to 20.0 - 20.5km... However, timing is not everything, and I did as best as I could in adverse (read: hot) conditions and I must thank Jon for pacing with me all the way and ensuring I maxed out fully... I know that if I had run this race alone, I would have wilted in the heat and probably did something closer to 2:30...
Finisher's medal..
I never get my photos taken, so I had to cam-whore..
Had breakfast at the hotel and checked out after 12:30pm... On the way home, we stopped by Lukut to sample the famous king buns...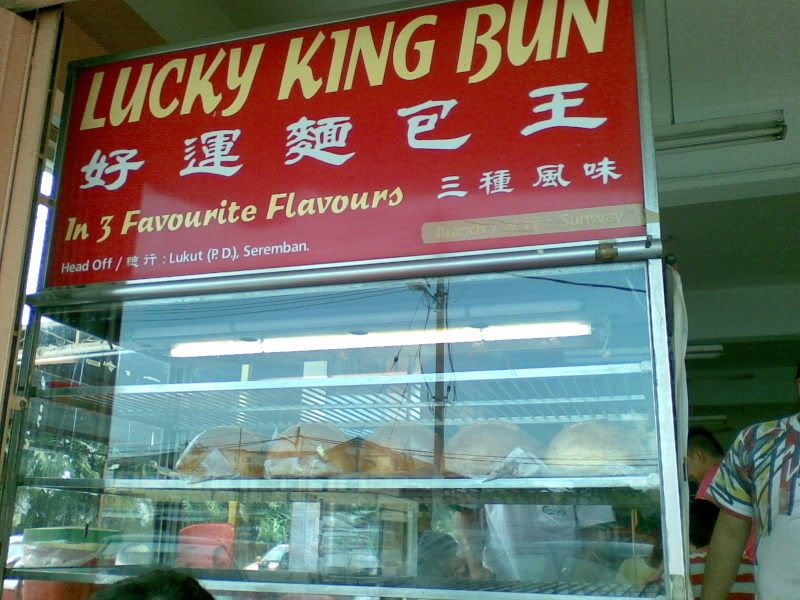 The signage says it all...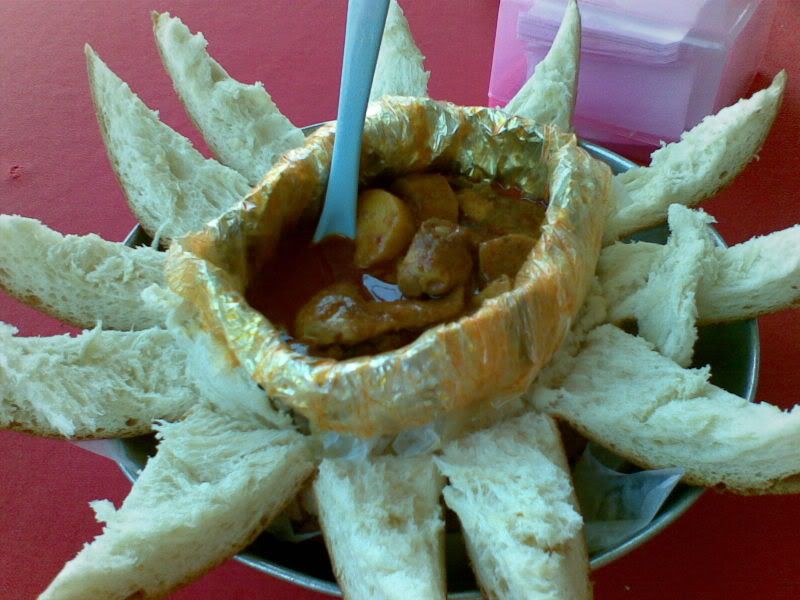 You have to try this...
It was actually curry chicken baked inside of a huge gigantic bun... It was pretty good and both of us couldn't finish the whole portion and had to ta pau back...
All in all, an enjoyable trip for the weekend...