The Great Aussie Holiday
Caution: Lengthy post and huge volumes of photos. Get your J Co Donuts and coffee before you sit down tight....
It was practically a whirlwind holiday!!! 7 days, but due to flight arrangements, we only had 5 full days in Aussie-land and how did we go about filling up those 5 days to the brim? Well, here goes...
Flight to GC was at 9:40pm from LCCT and the 8 hour journey got us to Coolangatta Airport at about 8am local time. Picked up our rental car (a 2-door M Yaris) and proceeded to check out the maps provided. Based on plan, it was Tweed Heads first before heading off to the colder climate of Tambourine Mountains.
The drive to Mt Tambourine was via a scenic drive, taking us thru hills and valleys, lined with giant trees, meadows and rolling plains. Some small villages and lookouts dotted the route and the scenery was refreshing and calming...
Huge life-sized carvings by the side of the trails

Gigantic trees lining the route

A stop at the Springbrook National Park was rewarded with lovely waterfall views and fresh air amongst the foliage...
Peaceful. Serene. Calm.
However, due to the long hours on the plane (I know some flights are way way much longer, but try driving for long stretches right after an overnight flight), we we're pretty much lethargic and in need for a stop and power-nap.
Taking a power nap in the middle of nowhere
Mt Tambourine is a quaint little town, with a slow pace and friendly people. The Gallery Walk is a must visit, but the shops were mainly closed when we got there... Antiques, knick-knacks and what-nots are all to be found...
The fish and chips shop where we ta-pau-ed our dinner
2nd day, destination was Brisbane, it was a pretty much short drive on the highway to Brisbane. The drive out to the highway was littered with excellent lookout points and offered expansive views of the mountainous region.
Rotary lookout... great view... not talking about her..

Before getting onto the highway, we managed to buy some avocados from an un-manned roadside stall. The concept is, you pick your avos and you put the money into a coinbox at the stall. I guess Aussies are way much more trusting than locals here. If this were to be the situation in KL, within 10 mins, ALL the avos AND the coinbox would be missing!!
Yes.. she did put money into the coin box...

Whole day in Brisbane was spent traipsing all over the city on foot (we prolly covered >15kms on our 2 weary pairs of feet)... The Roma Street Parklands in Brisbane CBD is the largest subtropical parkland nested in a City Centre in the world, and boasts of a multitude of flora unsurpassed by any other.
Roma Street Parkland
One thing you notice about Australia is that there are many parks in and around the city centre and these parks are always full of people, playing and enjoying themselves in the sun. Family and camarederie play a pivotal role in these people's lives.
Took a walk across the Brsbane Bridge to the Southbank, an al fresco area with lively activities and pretty much the 'in' place I guess.. Outdoor movies, food kiosks, shopping avenues, it was all there.
Al fresco dining... and people watching..
Brisbane in dusk...
Tired out, we managed to drag ourselves back to the motel at night, and after a spot of cooking by J, it was zzzzzz's all the way...
From the heady lights of Brisbane, the next day's travel took us to the suburbs outskirts of the city. Early morning stop at the Farmer's market in Brisbane Powerhouse was enjoyable, pretty much like our local version of Pasar Tani or Pasar Minggu. Buying some Macadamias and cherries and nectarines made the walk around the market even more fun...
Buying red succulent cherries...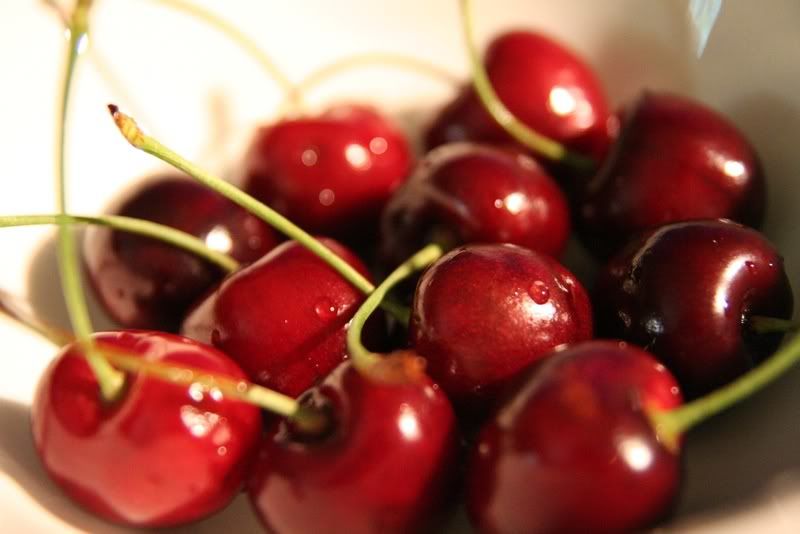 The real deal.. nothing like the chemical induced fakes we have on birthday cakes
On the way, we stopped at Ipswich for lunch. Panini's, cappucino and mocktails taste just much better when you're away from home!!
Before reaching Toowomba (our stop for the night), we also had a pit stop at Gatton, where we did some posing and cam-whoring at Lake Apex. He he..
Toowomba is pretty much larger than Mt Tambourine, but nowhere near Brisbane, size-wise. Its like Sitiawan, compared to Ipoh (Brisbane) and Bota Kanan (Mt Tambourine)... Ehem.. However, I'd say that I enjoyed Toowomba very very much... Lovely place, with a not too fast pace, great architecture, loads of food choices, dotted with parks... just plain lovely.
J promoting the city council
They take their decorations real seriously..
Did a quick round the town centre early the next morning for some photo taking before proceeding with the rest of the journey..
One of the parks in Toowomba...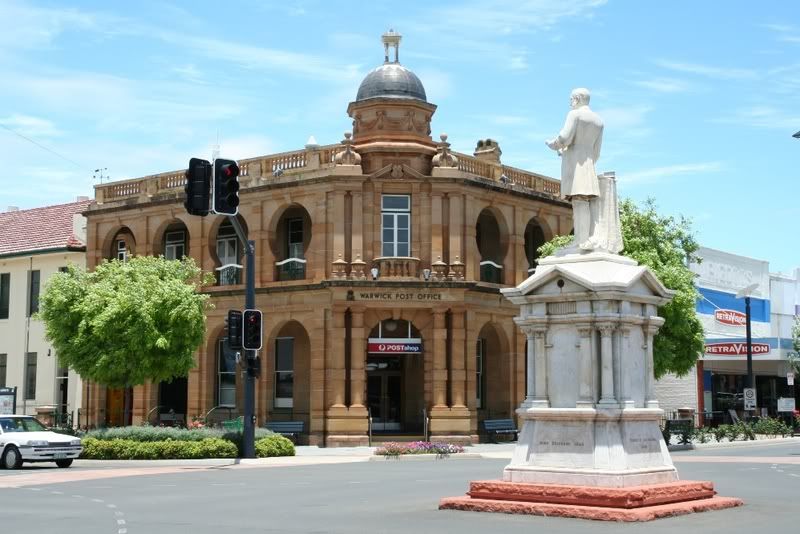 Lovely architecture...

Warwick and Boonah round up the pit-stops on our way back to GC. Warwick have some stupendous sandstone buildings that stand till today and are a fine reminder of architecture marvels from yesteryears... Boonah was a much shorter stop, but we drove all the way up to Mount French National Park and had a bird's eye view of the surrounding valleys of Cunningham Gap. When you see a view like that, you just forget all your worries and leave the world behind...
One thing I will never forget is the sight of a truly wild kangaroo bounding across my path as I was driving thru the Mt French trail... The roo was barely 6 metres away and I had to jam my brakes to ensure I did not hit him/her... That was one close call...
Froggy froggy...
One of the many sandstone buildings in Warwick..
Walking thru Mt French National Park...
J cooked up a sumptuous meal for 2 in GC... we had wild mushroom soup for starters, and for mains, pork steak with apple sauce and mango chutney, with broccoli and potatoes on the side. She does whip up a mean dish when she wants to...
Lip-smacking the yum yum..
Last full day in GC was pretty much unforgettable. In the morning before checking out, we walked around Harbour Town (GC's duty free shopping arcade) and after checking out of the hotel, we decided to go to Currumbin Wildlife Sanctuary, just outside of GC city.
The Sanctuary was fabulous. In tune with Mother Nature, we were literally a touch away from kangaroos and other wildlife. The place is huge, and it takes a whole day to explore every nook and corner of the sanctuary. It was a trigger-happy affair, with loads and loads of photos of kangaroos, koalas, birds, reptiles, and all forms of wildlife, mainly those native of Australia of course...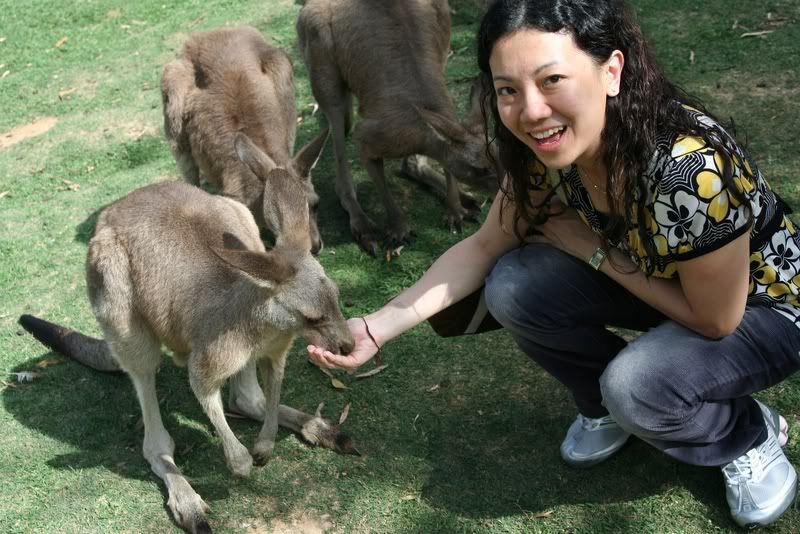 Feedin the roos...
The pretender to the Wombat throne...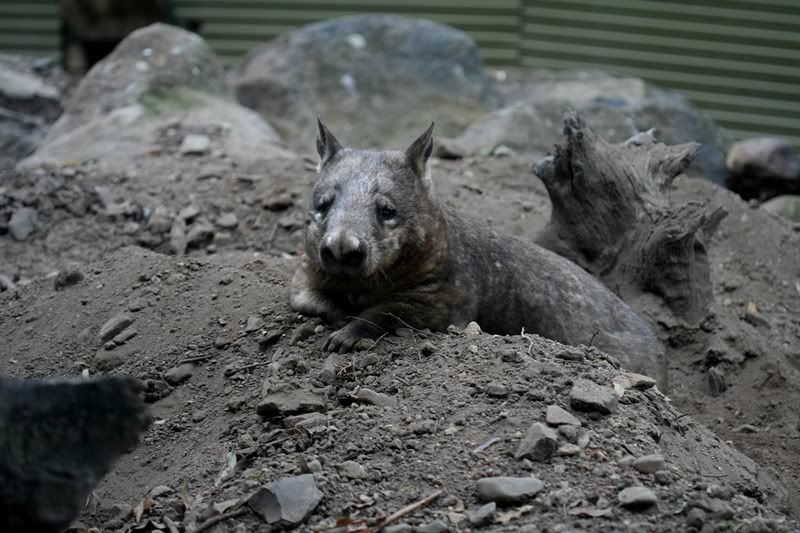 Mr Wombat himself makes a guest appearance...
Croc-king being fed by Crocodile Dundee... This macha is 5.1m long!!
Croc-king feedin on yours truly...
One of 'em native lizards that flares its hood when it gets an orgasm..
Can you spot the tree branch?
Traditional dance....
Higlights definitely have to be the bird show and Lorikeet feeding... just look at how happy J is... =D
Hope that one didn't poop on her head..

Spent the last night in GC walking around Surfer's Paradise and taking in the atmosphere of Christmas eve...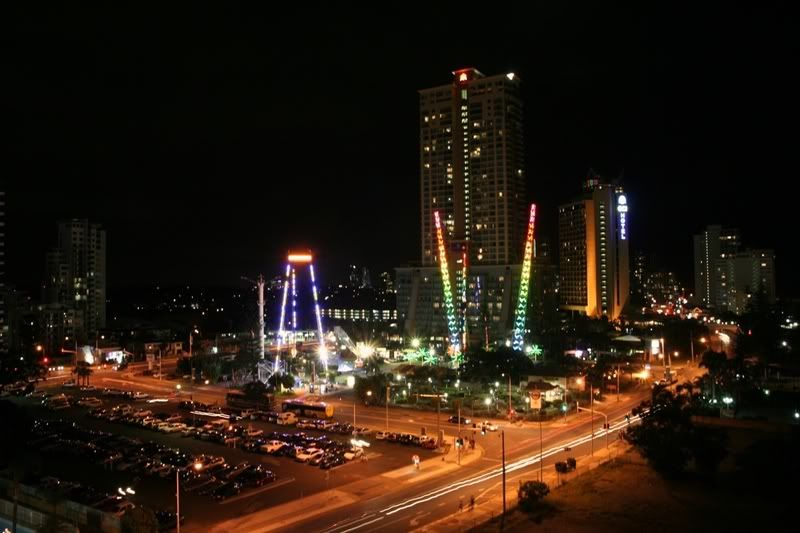 Surfer's Paradise at night... one of the quieter parts la that is..
An early morning flight out of GC marked the end of a quick but enjoyable holiday down under. Got home to KL in late afternoon, happy and tired.